Much of the information in this blog (and in all previous Hamilton bios) has been updated, expanded, or even corrected in Michael E. Newton's new book Discovering Hamilton. Please check that book before using or repeating any information you read here on this blog (or that you read in previous Hamilton biographies).
I am honored to announce that I will be a part of this year's Happy Birthday Hamilton on January 11 hosted by the Alexander Hamilton Awareness Society alongside other great Hamilton experts.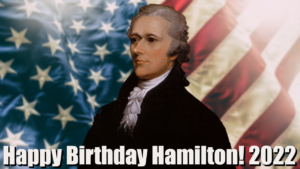 Celebrate Alexander Hamilton's birthday by joining us for a panel discussion featuring Hamilton experts Richard Brookhiser, Doug Hamilton, Stephen F. Knott, Michael E. Newton, Robert E. Wright and others.

This roundtable will touch upon Hamilton's early life, his contributions to the founding the US and the establishment of the country's financial system, and his enduring legacy.

This panel discussion is presented by the Alexander Hamilton Awareness Society in collaboration with the Museum of American Finance, the Hamilton Partnership for Paterson, Revolutionary NYC, the Saint Andrew's Society for the State of New York, First Families of New York, the Lexington Historical Society, StatutesandStories.com, and the Morris-Jumel Mansion as part of Happy Birthday Hamilton! 2022.
Register at https://us02web.zoom.us/meeting/register/tZUkf-GqqTgtH9E66HY-6OPYbFk5JVSnik5d