Much of the information in this blog (and in all previous Hamilton bios) has been updated, expanded, or even corrected in Michael E. Newton's new book Discovering Hamilton. Please check that book before using or repeating any information you read here on this blog (or that you read in previous Hamilton biographies).
© Posted on December 11, 2017, by Michael E. Newton.
Many years after the French invasion of Nevis in March 1706, the British and French governments were still arguing about whether the residents of Nevis owed France what they had agreed to in their terms of surrender or whether France owed the Nevisians for the illegal seizure and destruction of their property. To make their case, a number of Nevisians in 1720 provided accounts of what had happened to them back in March 1706. One such deposition was provided by John Faucett, Alexander Hamilton's grandfather.
The Deposition of John Faucet Planter aged about six and thirty years taken before the Honourable John Pinney Esqr Chief Justice of the Court of Kings Bench and Common Pleas, and John Dasent Esqr one other judge of said courts, and members of the committee appointed to answer the memorial of the French envoy Monsieur D'Iberville relating to the invasion of this island in the year seventeen hundred and six.

Who being duely sworn, to the second article saith, that this deponent contrary to the said article was stripped of all his wearing apparel to his shirt, shoes and stockings, some days after the surrender of the island at the Dodan; To the fifth article this deponent saith, that some few days before the departure of the French under the command of Monsieur D'Iberville, his own dwelling house, boyling house, with about eight or ten thousand pounds of sugar therein was burned together with all his outhouses and negro houses (excepting one) by the French and did also see the Lower boyling house of John Choppin Esqr and the boyling house of Isaac Evans deceased burned by the French after the surrender of the Dodan, And as to that part of the memorial setting forth the French their putting themselves in a posture to force the Dodan a second time, This deponent saith, that the inhabitants of this island being unarmed and guarded as prisoners of war it was impossible for them to get to the Dodan to make any opposition against the French nor did this deponent ever hear that there was any such thing in agitation and further saith not.

John Faucett

Sworn before us the 31st day of May 1720

John Pinney

John Dasent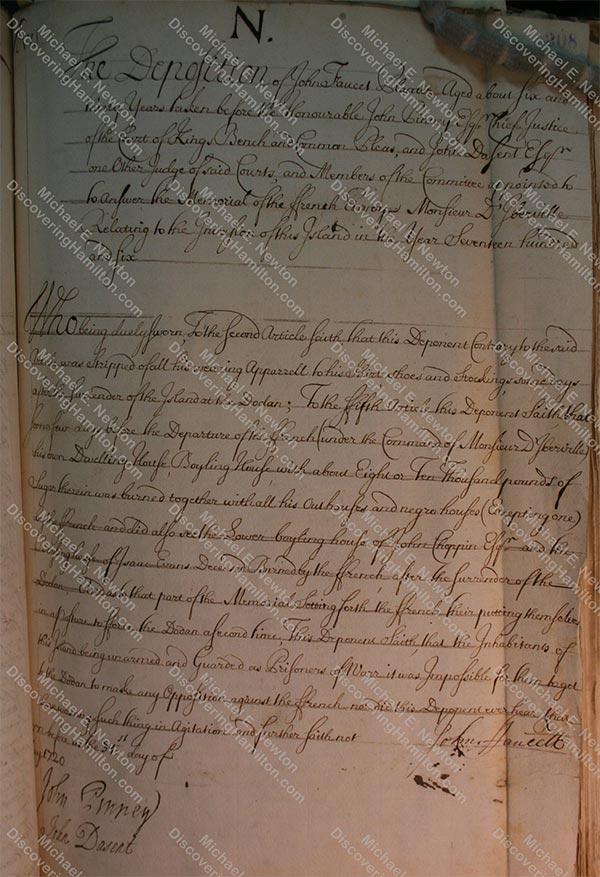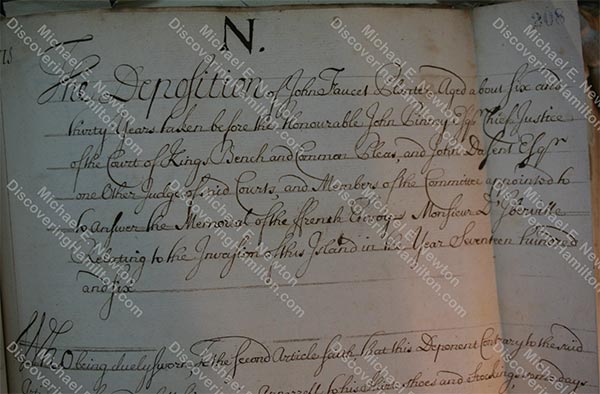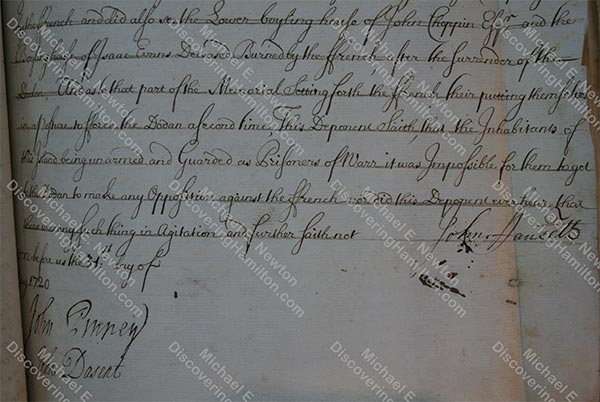 * I would like to thank Susan Moore (www.susanmooreresearch.co.uk) for locating and photographing at my request the above document within the collections of the U.K. National Archives.
This deposition tells us much about Alexander Hamilton's grandfather, John Faucett, that previously was not known.
According to this deposition, John Faucett was "aged about six and thirty years" in May 1720. This means that he was born in "about" 1683 or 1684. It also means that he was "about" twenty-two years old when the French invaded Nevis in March 1706.
The deposition also tells us that the "about" twenty-two-year-old John Faucett was already a "planter" on the island of Nevis in 1706, owning a sugar plantation complete with a "dwelling house," "outhouses," "negro houses" for his slaves, and a "boiling house" for converting the juice extracted from the raw sugar cane into molasses and crystallized sugar. The French, according to Faucett's statement, "burned" all this down, save for one negro house, plus "eight or ten thousand pounds of sugar." They also "stripped" him "of all his wearing apparel to his shirt, shoes and stockings." Even though the French absconded with 3,187 of the island's 6,023 blacks, John Faucett did not say how many of his slaves were seized by the French. Perhaps none of them were taken, or, more likely, they were seized prior to or as part of the surrender and therefore their loss was not in violation of the terms of surrender and thus not the subject of this deposition. According to the census of 1708 taken just two years after the French invasion, John Faucett is found with two white females, presumably a wife and a daughter, and seven slaves.[1] This paltry number of slaves was far too few to run a sugar plantation of any size, suggesting that the French had confiscated some or all of his slaves during their invasion.
John Faucett's deposition also mentions John Choppin and Isaac Evans as his close neighbors in 1706. Although it does not state where they lived at the time, all three would later be found in St. George's Parish.[2] This suggests that John Faucett in 1706 almost certainly owned a plantation and lived in St. George's Parish.
As you can see in the above images, the deposition is signed by "John ffaucett," or "John Faucett" as the "ff" was at that time a common way to write a capital "F" (see the "ffrench" and "ffifth" in the deposition). A close analysis shows that this is an original signature.[3] For years, there has been a debate over how to spell "Faucett." In my research, I have found twenty different spellings of this name in the records: Facet, Facett, Facit, Facy, Fassett, Fassit, Fatzieth, Faucet, Faucett, Faucette, Faucit, Fauscett, Fauset, Fausset, Faussett, Faust, Fawcett, Fawsett, Fosseet, and Fossett. As this deposition includes the only known signature of anyone using this name, the "Faucett" spelling used here must be considered the most authentic.[4]
Prior to the discoveries shared last week and the discovery of this deposition, little had been known about John Faucett's early life, i.e., his life prior to 1714. In fact, the only records available were the abovementioned census of 1708[5] and a statement by Alexander Hamilton that "my Grandfather by the mothers side of the name of Faucette was a French Huguenot who emigrated to the West Indies in consequence of the revocation of the Edict of Nantz and settled in the Island of Nevis and there acquired a pretty fortune. I have been assured by persons who knew him that he was a man of letters and much of a gentleman. He practiced a⟨s⟩ a Physician, whether that was his original profession, or one assumed for livelihood after his emigration is not to me ascertained."
With the discovery of this deposition, we now know that:
John Faucett, Alexander Hamilton's grandfather, was born in "about" 1683 or 1684.
By the age of just twenty two, John Faucett was a wealthy planter on Nevis, owning a plantation that included a dwelling house, outhouses, slaves, negro houses, and a boiling house.
By 1706, John Faucett was living in St. George's Parish alongside John Choppin and Isaac Evans.
The last name of Alexander Hamilton's mother and grandfather was spelled "Faucett."
These discoveries help fill in the gaps of John Faucett's biography. Nevertheless, most of John Faucett's story remains a mystery. When did he move from France to Nevis? Did he come by himself as a young adult or as a child with his parents? How did he come to own a plantation at such a young age? Did he purchase it or inherit it from his father or another relative? Was he a doctor before he became a planter or did he take up this profession afterwards?
Perhaps there is more to be discovered in the records located on Nevis and in the U.K. National Archives. But that would be a substantial project requiring considerable amounts of time and money…
© Please cite this blog post when writing about these new discoveries or quoting this blog.
---
[1] Caribbeana 3:179.
[2] Caribbeana 2:267–272 and 3:218–221.
[3] A comparison of the three signatures and the text of the document reveals four different hands. Compare, for instance, the "J" in all three signatures; the letter "n" in all three signatures and in the text; the "t" in Faucett, in Dasent, and in the text; the "ff" in Faucett versus the "ff" in the text; and the "a" in Faucett against those in Dasent and in the text. Susan Moore, who located and photographed this document at my request, also commented, "Yes, I am sure that the document is an original and that therefore the signature must be original as well." Mariana Oller, the Associate Curator of Special Collections at Wellesley College and Chair of the Alexander Hamilton Awareness Society, also inspected the photographs of these documents and concluded that the document "is written in a skilled secretary hand, so it was prepared by someone whose job was to issue such documents, and it was then signed by the various parties."
[4] In Alexander Hamilton: The Formative Years, I concluded, "Based on the available evidence, it appears that the name in the original French was Faucette and that it was anglicized to Fawcett upon arrival in the West Indies. It also appears that Fawcett was the spelling favored by those who bore the name. Accordingly, Fawcett is the spelling used in this book." Obviously, the newly discovered document presented here disproves my previous conclusion.
[5] A "John Fawcett, Junr" and a "Mr. John Fossett" resided on Nevis in 1678, but Alexander Hamilton's grandfather had not yet been born and, according to Hamilton, his ancestors did not leave France until after the revocation of the Edict of Nantes in 1685.
© Please cite this blog post when writing about these new discoveries or quoting this blog.