Much of the information in this blog (and in all previous Hamilton bios) has been updated, expanded, or even corrected in Michael E. Newton's new book Discovering Hamilton. Please check that book before using or repeating any information you read here on this blog (or that you read in previous Hamilton biographies).
Over the last two weeks, we have been discussing the story of Jemima Faucett Iles Gurley, the long-lost aunt of Alexander Hamilton (see part 1 and part 2). When we finished last week, Jemima Gurley was on St. Croix where she was called as a witness by John Michael Lavien to testify regarding Rachel Faucett Lavien Hamilton and her relationship on Nevis with James Hamilton. In addition to Jemima, it appears that at least three children were with her on St. Croix—her sons William Iles and Lillingston Iles along with an unnamed daughter.
William Iles Moves to Montserrat
It will be recalled that a William Iles, probably the son of William Iles Sr. and Jemima Faucett Iles Gurley, was living on St. Croix in 1758.
This William Iles left St. Croix, probably in 1760, and on September 19, 1760, "William Iles of the Island of St. Croix but now in the Island of Montserrat" appointed two attorneys to represent him on St. Croix in his absence.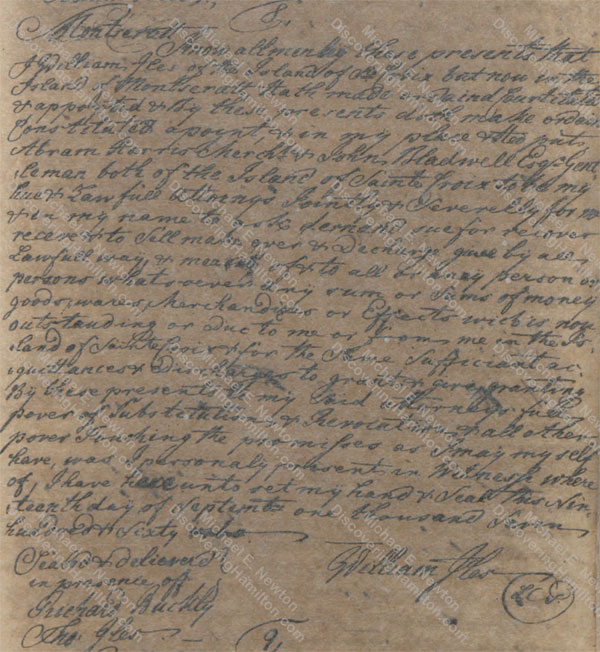 One of the two witnesses to this power of attorney was a Thomas Iles. Other records (not shared here) show that a Thomas Iles Jr. lived on St. Croix and had arrived, perhaps with his father, in 1747 or 1748. Thomas Iles Sr. had married Sarah Lytton, the sister of James Lytton, in St. George's Parish, Nevis, on January 5, 1720.[1] The following year they had a son, who they named Thomas and baptized in the same parish on June 20, 1721.[2] No relationship between Thomas Iles and William Iles has been explicitly stated in any known extant record but one assumes that Thomas Iles Sr. and William Iles Sr. were brothers and that Thomas Iles Jr. and William Iles Jr. were therefore first cousins.
Jemima Gurley Sells Two Slaves
On October 19, 1761, Jemima Gurley on St. Croix sold "a certain negroe woman named Leth [Leah] and her child named Teresa" for 200 pieces of eight to James Booth.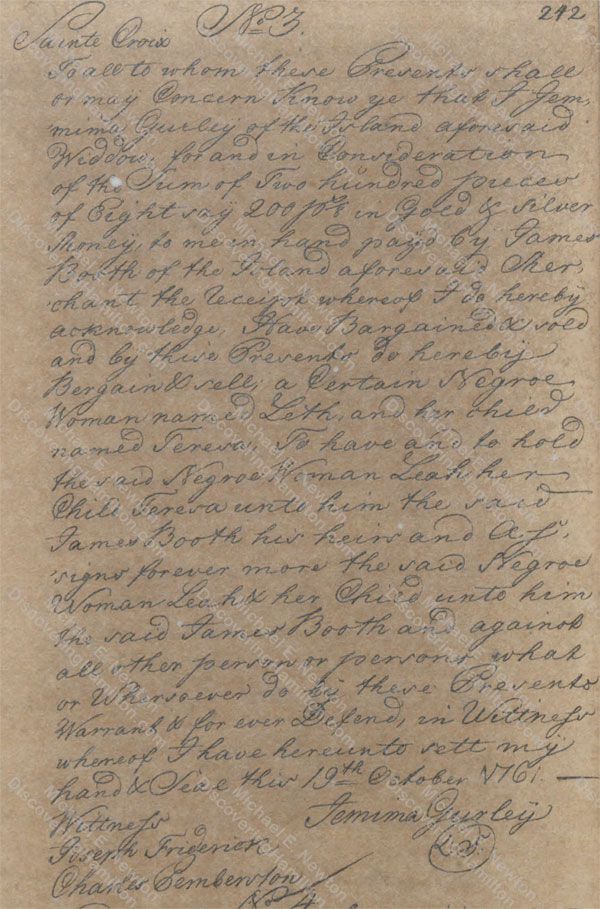 Saint Croix
To all to whom these presents shall or may concern know ye that I Jemima Gurley of the island aforesaid Widow, for and in consideration of the sum of two hundred pieces of eight say 200 ps in gold & silver money, to me in hand paid by James Booth of the island aforesaid and merchant the receipt whereof I do hereby acknowledge, have bargained & sold and by these presents do hereby bargain & sell a certain negroe woman named Leth, and her child named Teresa, to have and to hold the said negroe woman Leah her child Teresa unto him the said James Booth his heirs and assigns forever more the said negroe woman Leah & her child unto him the said James Booth and against all other person or persons what or wheresoever do by these presents warrant & forever defend, in witness whereof I have hereunto sett my hand & seal this 19th October 1761.
Jemima Gurley
Witness
Joseph Friderick
Charles Pemberton
One will notice that Jemima Gurley described herself in the above deed as a widow. Thus, her husband Richard Gurley Sr. was dead. One assumes, since Richard Gurley did not appear in the 1758 matrikel, that he had died prior to that time.
Richard Gurley Jr. on Nevis in 1764
On February 1, 1764, a Richard Gurley started working in a boiling house and as an overseer of the Montravers sugar plantation on Nevis. According to an in-depth work about that estate:
For about a year and a half from 1 February 1764, Richard Gurley was employed in the boiling house and as an overseer. He may have been a young man in his early twenties (born on 12 February 1743 and baptised six months later) but, equally, the man working on Mountravers could have been his father of the same name. Married in 1740, Richard Gurley senior would perhaps have been in his forties or early fifties. His wife, Gemima Isles, came from a large, established Nevis family while his appears to have been a small one: the only reference to another Gurley found so far is to a William Gurley, whose 'base son' was baptised in 1751. Like William Vaughan, the overseer before him, Richard Gurley also lived in St George's Gingerland. Eight months after he started work, Coker increased his salary from N£48 a year to N£50. JPP arrived in December 1764 and Richard Gurley left his employment in June the following year.[3]
As we have already seen, Richard Gurley Sr., the husband of Jemima, had died by October 1761 and probably by 1758. Accordingly, this Richard Gurley who worked on Nevis's Montravers plantation probably was Jemima's son Richard Gurley Jr. If so, it is not known whether Richard Gurley Jr. had stayed on Nevis the entire time and never came to St. Croix or if he came to St. Croix with his mother and then returned to Nevis, perhaps with Jemima also returning to Nevis. As Richard Gurley Jr. is not found in St. Croix's matrikels, one assumes that he never left Nevis.
Adding Jemima Faucett and Family to the Faucett Family Tree
With the newly discovered records revealed in these blog posts, a more complete family tree for the Faucetts can now be provided.
Here is a simple tree of John Faucett with all his known children:

Here are the three Faucett daughters who lived into adulthood—Ann Faucett (Lytton), Jemima Faucett (Iles Gurley), Rachel Faucett (Lavien Hamilton)—along with their husbands and their children (but the Lytton children are not listed individually due to a lack of space and they may possibly be the topic of another blog post):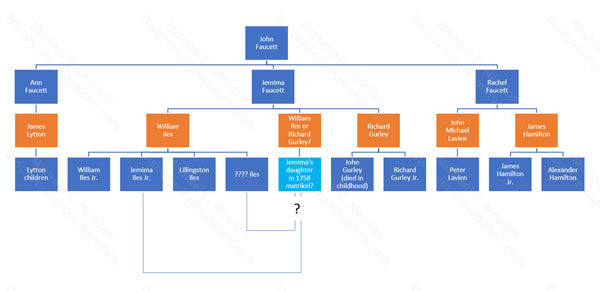 The children of these three sisters, obviously, were first cousins. In other words, the children of Jemima Faucett, who until now were not place within the Faucett family tree, were Alexander Hamilton's first cousins, just like the Lytton children.
Did Alexander Hamilton Know Jemima or Her Children?
Alexander Hamilton may have known his aunt Jemima if she moved back to Nevis after her stay on St. Croix, a possibility discussed above. Alexander Hamilton may have also known some of Jemima's children on Nevis, like Richard Gurley Jr., who was on that island at least part of the time Hamilton was there. Hamilton may have also known some of the children on St. Croix. As we saw, Lillingston Iles was on St. Croix in 1769, by which time Alexander Hamilton was also there. One assumes that young Alexander Hamilton knew this first cousin. Being 22 years older than Hamilton, Lillingston would have been more like an uncle than a first cousin, much like Hamilton's cousin Ann Lytton (Venton Mitchell).
To be Continued?
A lot more research still needs to be done regarding Jemima Faucett, her husbands, their families, and her descendants. Census and church records from St. Croix that have already been examined need to be skimmed through again looking for Jemima, her children, and members of the Iles and Gurley families. I have already found many more records of people on St. Croix with the names of Iles and Gurley who may have been the descendants or relatives of Jemima, but I have been unable to determine if and how they are related to her and therefore chose not to include them at the present time.
Hopefully, more will be discovered regarding the lives of Jemima Faucett Iles Gurley and her children. If you know or find anything, feel free to contact me or comment below.
Endnotes
[3] Eickelmann, The Mountravers Plantation Community, 1734 to 1834 1045 (Part 3, Chapter 2). This work is occasionally being updated to reflect new finding. The above quote is from the April 2, 2018, but will likely be changed to reflect the information in this blog post.
Copyright
© Posted on September 4, 2018, by Michael E. Newton. Please cite this blog post when writing about these new discoveries.