Much of the information in this blog (and in all previous Hamilton bios) has been updated, expanded, or even corrected in Michael E. Newton's new book Discovering Hamilton. Please check that book before using or repeating any information you read here on this blog (or that you read in previous Hamilton biographies).
Last week we introduced Alexander Hamilton's long-lost aunt, Jemima Faucett. When we last saw her, Jemima's husband William Iles had died and she was living on Nevis "in very deplorable circumstances" with "four helpless children to provide for" and debts she was unable to pay.
The Marriage of Jemima Faucett Iles to Richard Gurley
On May 23, 1740, Jemima Faucett Iles married a Richard Gurley in St. George's Parish, Nevis.[1]
Children Born to Richard and Jemima Gurley
On March 2, 1741, a John Gurley was both baptized and buried in St. George's Parish, Nevis.[2] The name of the parents is not given in the record, but as no other Gurleys appear in the parish registers, one assumes that this was the son of Richard and Jemima Gurley.
On February 12, 1743, a son was born to Richard and Jemima Gurley. Six months later, on August 19, the parents baptized the boy and named him Richard, making him Richard Gurley Jr.[3]
Jemima Gurley and Some Family Members Move to St. Croix
At some point, Jemima Gurley and some members of her family moved to St. Croix.
Jemima Gurley appears in St. Croix's 1758 matrikel (census and tax list), living on Torve Gaden (Market Street), along with one girl, presumably a daughter. Whether this was Jemima Iles Jr., who by this time would have been twenty-five years old, or another daughter, perhaps the fourth child mentioned in Jemima's 1739 petition, is not known. It is also worth noting that Jemima's husband Richard Gurley is not found in the matrikel. One assumes that he had already passed away (more evidence supporting this will be presented later).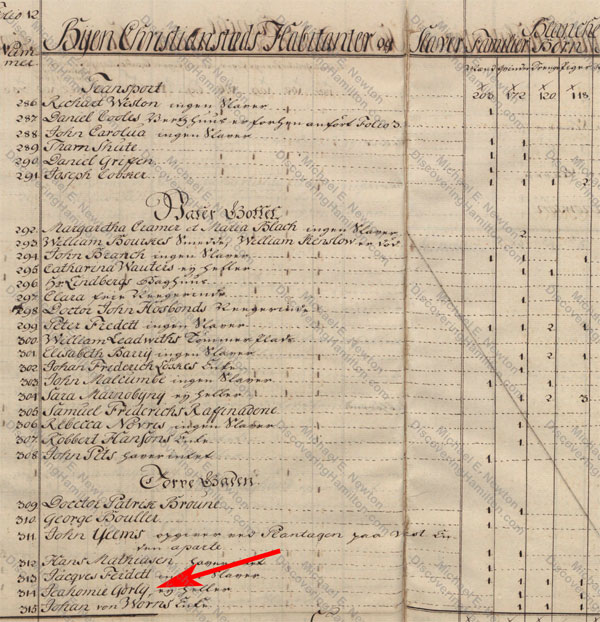 A William Iles also appears on St. Croix in 1758, with a woman, presumably his wife. This William Iles probably was the son born to Jemima on April 15, 1731, but the Iles family was a large one and the name William was too common to make this a certainty.

Although Lillingston Iles, the son born in 1735, does not appear in the 1758 matrikel, he appears in multiple records on St. Croix.
A record from July 1754 shows a Lingston Iles on St. Croix. This presumably was Jemima's son Lillingston Iles.


A more interesting document shows Lillingston Iles living on St. Croix in 1758 and again in 1769.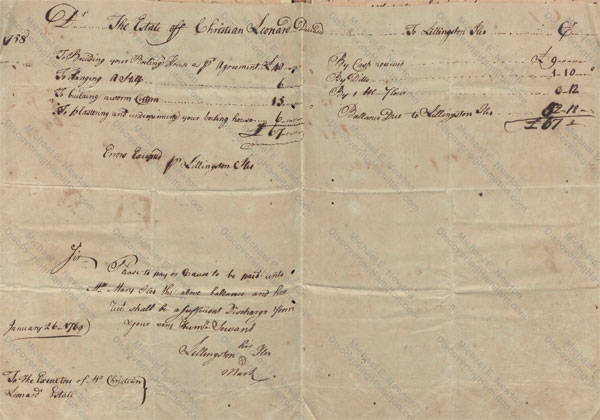 This 1758 account submitted on January 26, 1769, shows that Lillingston Iles was some sort of builder, had a wife named Mary, and was either illiterate or incapacitated so that he was unable to sign his name but instead made "his mark" on legal documents.
All told, Jemima Faucett Iles Gurley and apparently at least three of her children—the unnamed daughter in the matrikel with her, William Iles Jr., and Lillingston Iles—were on St. Croix in 1758.
Jemima Gurley Summoned as a Witness by John Michael Lavien for his Divorce from Rachel Faucett
In February 1759, John Michael Lavien filed for divorce from his wife Rachel Faucett. In addition to calling for Rachel to appear, the court summoned three other people to serve as witnesses: James Hendrie, Jemima Gorley, and James Ash.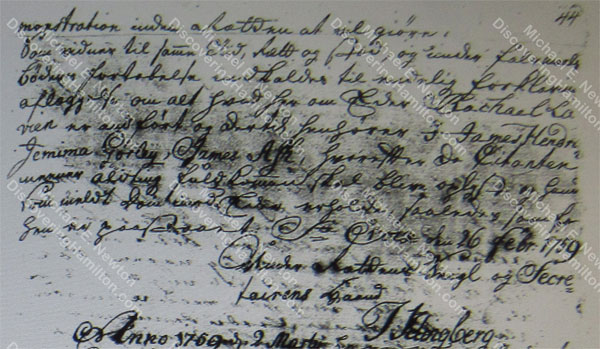 The names of these witnesses have been mentioned by some historians but their significance has been entirely overlooked.
Regarding the set of three witnesses, H. U. Ramsing wrote, "The witnesses who were summoned were all living on St. Croix… They were all people of small means who owned few or no slaves." Specifically regarding the above "Jemima Gorley," Ramsing merely wrote, "Jemima (Jeahomie) Gorley lived in Torvegade (Market Street) in Christiansted."[4] Ramsing wrote nothing more about this Jemima Gorley, apparently finding nothing noteworthy about her.
Based on this, Broadus Mitchell wrote of the witnesses, "Ramsing identified them as persons of no special note; they do not otherwise figure in the records of Rachael."[5]
Subsequent Hamilton biographers have either repeated this line or failed to even mention these supposedly unimportant witnesses.
Little did they know that the "Jemima Gorley" called as a witness to the divorce of James Michael Lavien and Rachel Faucett Lavien was none other than Rachel's sister!!!
Since it appears that Jemima Gurley did not come to St. Croix until 1758 or shortly beforehand and most likely had been living on Nevis until that time, she presumably was called to testify that Rachel had been living and had children with James Hamilton on that island. Certainly the court did not need eyewitness testimony regarding Rachel's affair on St. Croix, which was well established in the court records of 1750, but Jemima's testimony regarding Rachel's activities after her departure from St. Croix would definitely be of value to John Michael Lavien.
No record has been found of Jemima Gurley's testimony as a witness. In fact, there is no record regarding whether she testified or appeared before the court.
To be continued…
Endnotes
[4] H. U. Ramsing, "Alexander Hamilton og hans Mødrene Slaegt."
[5] Mitchell, Alexander Hamilton: Youth to Maturity 473 note 46.
Copyright
© Posted on August 27, 2018, by Michael E. Newton. Please cite this blog post when writing about these new discoveries.