Much of the information in this blog (and in all previous Hamilton bios) has been updated, expanded, or even corrected in Michael E. Newton's new book Discovering Hamilton. Please check that book before using or repeating any information you read here on this blog (or that you read in previous Hamilton biographies).
This blog post is based on a talk given at Federal Hall on July 13, 2018, as part of the Alexander Hamilton Awareness Society's Celebrate Hamilton 2018. You can watch a video of the talk and see the slideshow here.
Hamilton: An American Musical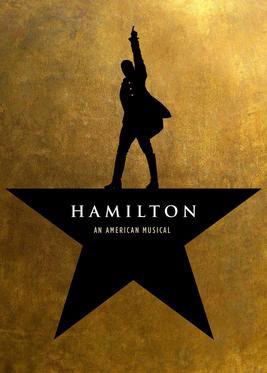 Hamilton: An American Musical opens with the question "How does a bastard, orphan, son of a whore…"
Later, towards the end of the musical, Aaron Burr asks, "How does Hamilton, an arrogant immigrant, orphan, bastard, whoreson…"
Son of a whore? Whoreson? What is the source for these insults? Is it true that Hamilton's mother was a "whore?"
Rachel Faucett Background
If one reads the current Hamilton biographies, the following timeline emerges regarding Rachel Faucett's background.
Rachel Faucett was born to John and Mary Faucett sometime between 1725 and 1729. Rachel and her mother moved from Nevis to St. Croix sometime in or just before 1745. In 1745 or so, Rachel married a man named John Michael Lavien. In 1746, Rachel gave birth to Peter Lavien. Around 1750, John Michael Lavien had Rachel thrown in prison for alleged infidelity. Lavien had Rachel released from prison but, instead of returning to her husband, Rachel left St. Croix without her husband or child and went to St. Kitts. There, she met James Hamilton. Together, they had two children: James Hamilton Jr. and Alexander Hamilton.
John Michael Lavien Files for Divorce
On February 26, 1759, John Michael Lavien filed for divorce. In his divorce claim, he argued that:
Rachel committed "such mistakes [that] among married people are indecent and very suspect."
"For 9 years [Rachel] has been absent from him and gone to another place, where she is said to have begotten several illegitimate children."
"She has shown herself to be shameless, rude and ungodly."
"She has…given herself up to whoring [Danish: Horerie] with everyone, which…her own family and friends must hate her for it."
Rachel should not "take possession of the estate and …acquire what she ought not to have… [and] give it to her whore [Danish: Hore]-children what such a legitimate child alone is due."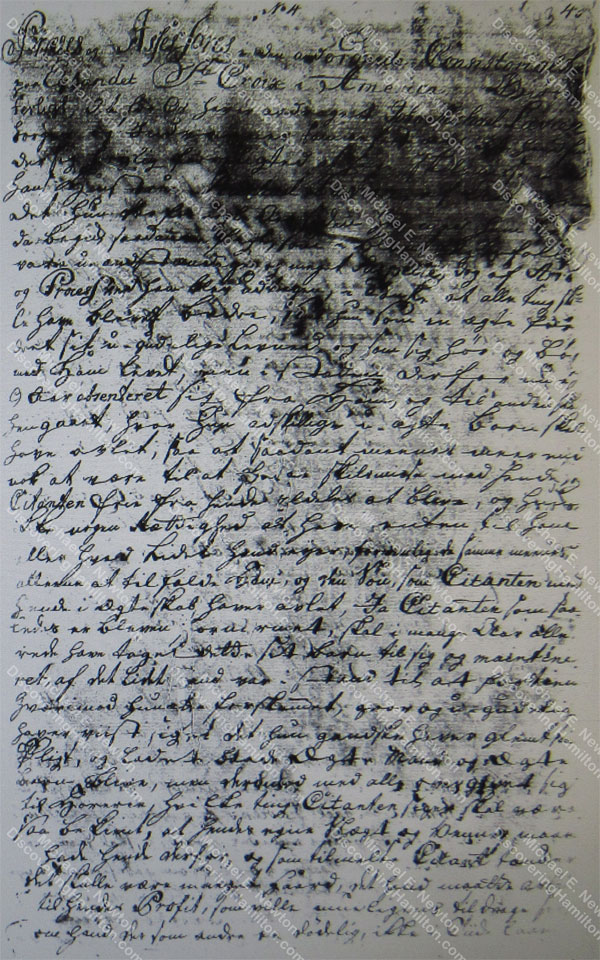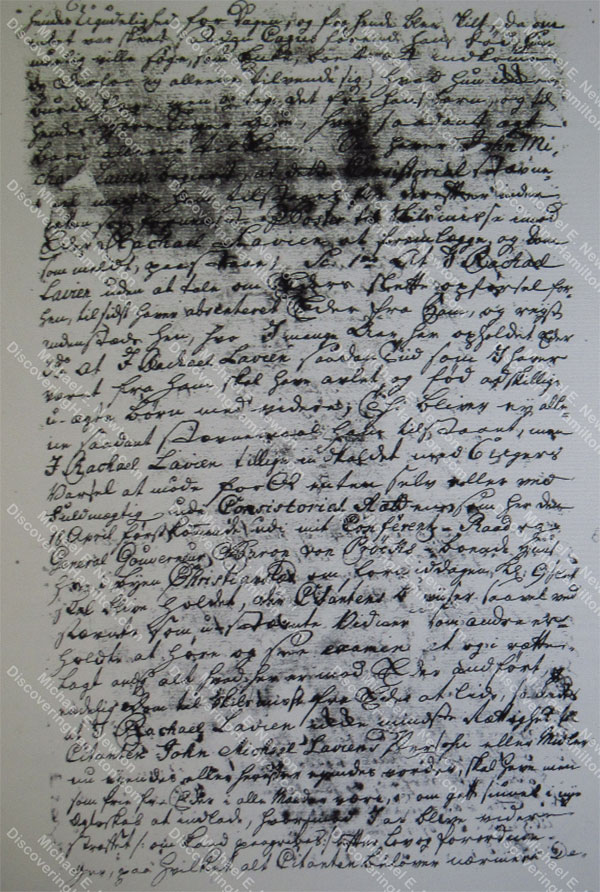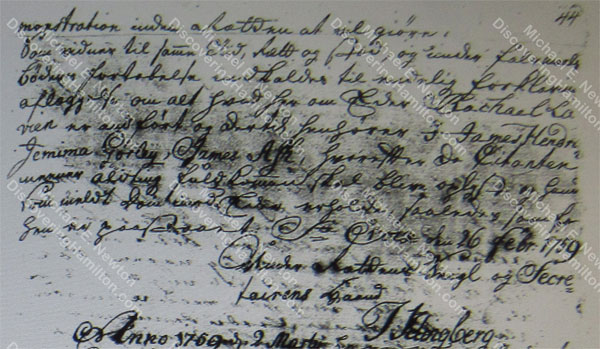 As you can see, the word "whore," or "Hore" in the original Danish, was used by John Lavien in his divorce claim. So this is the origin of the claim that Hamilton's mother was a whore.
Finding in favor of John Lavien, the court on June 25, 1759, granted a divorce to Lavien and stipulated that "Rachael Lewin shall have no rights whatsoever as wife to either John Michael Lawin's person or means which he now owns or will come to own. Also, Rachael Lewin's illegitimate children are forfeited all rights or pretensions to the plaintiff's possessions and means." The divorce decree concluded, "This divorce shall not bar the plaintiff John Michael Lawin from entering into another marriage. . . . His Majesty is reserved the right to Rachael Lewine," thus barring Rachael from remarrying.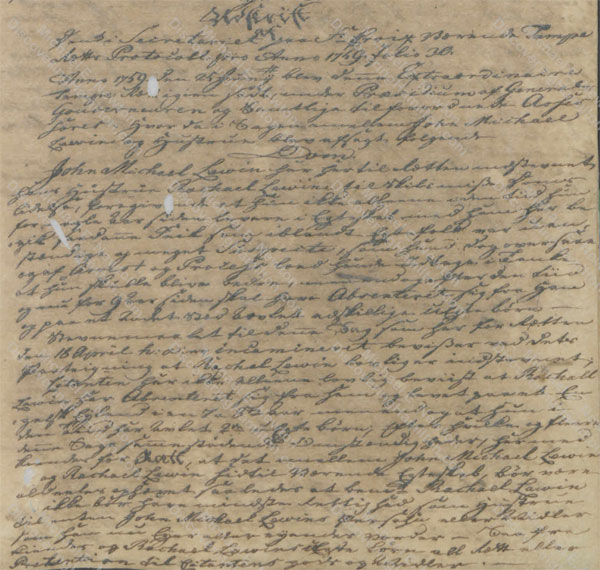 * There is a lot more to the divorce claim, hearing, and ruling, but that's beyond the scope of this blog post.
The above records related to the divorce were discovered by H. U. Ramsing and were first shared with the public in his 1939 essay on Hamilton's parentage.[1] Since then, nothing has been found to confirm or refute John Lavien's claim that Rachel had "given herself up to whoring with everyone" or that she had any affair besides her relationship with James Hamilton, which occurred after she left John Lavien and departed St. Croix.
Questioning Lavien's Claims
Are John Lavien's claims true? Is it true that Rachel had an affair on St. Croix while still with John Lavien? Is it true that Rachel had "given herself up to whoring with everyone?" Is it true that Rachel's "own family and friends must hate her for it?"
If true, are the claims against Rachel fair? The word "whore" has a number of definitions and varying connotations. Of course, a spurned husband might use the term. But would an objective observer apply it in the case of Rachel?
In what context did Rachel's alleged affair or affairs take place? Were Rachel and John separated for some time before her affair? In accusing Rachel of infidelity, was John Lavien himself faithful? Was John Lavien a drunkard? Was he a spendthrift who squandered Rachel's inheritance? (There is some evidence suggesting that Lavien did squander Rachel's inheritance, but that belongs in another blog post.) Was he cruel or abusive, thereby forcing Rachel to leave him and seek the support of a better man? The context in which Rachel's alleged affair or affairs took place definitely matters.
Of course, we know that Rachel Faucett had a long-term relationship with James Hamilton starting in the early 1750s while she was still married to John Lavien. But this relationship occurred after Rachel had left her husband for good. Although not divorced, they were permanently separated. As I wrote in Alexander Hamilton: The Formative Years, "Certainly, it would have been cruel to prevent Rachael from remarrying when she was not yet twenty-five at the time her first marriage ended in failure."[2] Would anyone call Rachel a "whore" for having this "affair" with James Hamilton? Surely her husband would, but would an objective observer do so?
But what about the earlier alleged affair for which she was supposedly imprisoned by her husband? If she had an affair, as John Lavien claimed, for which she was imprisoned, that would perhaps be a different story.
But again, if this affair took place, the details would also matter.
Until now, all we knew about this alleged affair was what John Lavien presented to the divorce court in 1759.
Until now, we knew no details of what took place.
Until now, we had no reliable unbiased source for this allegation.
Until now, except for the accusations made by a spurned husband, we knew nothing!
Until now!!!
St. Croix Superior Court Records
Unfortunately, the municipal court records from this period are damaged and unusable. So instead I was browsing through the registers of the superior court of St. Croix when I found numerous records interspersed over several pages regarding Rachel Faucett Lavien's alleged affair.
As you can see, it was not recorded in a nice clean hand and many of the records have suffered what appears to be water damage. Even the legible parts are in old Danish and written in Gothic script that few people today can read fluently.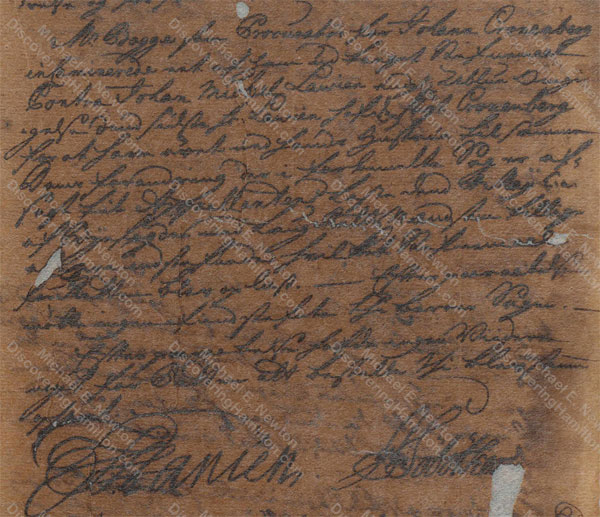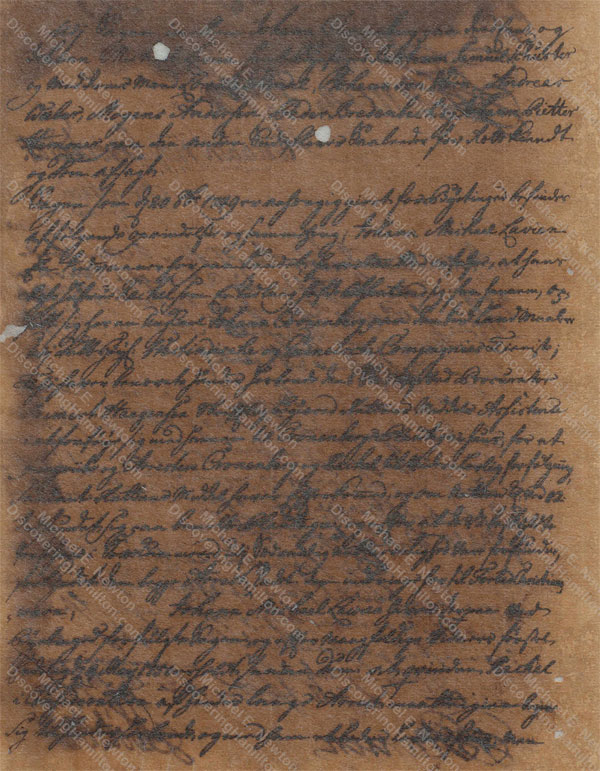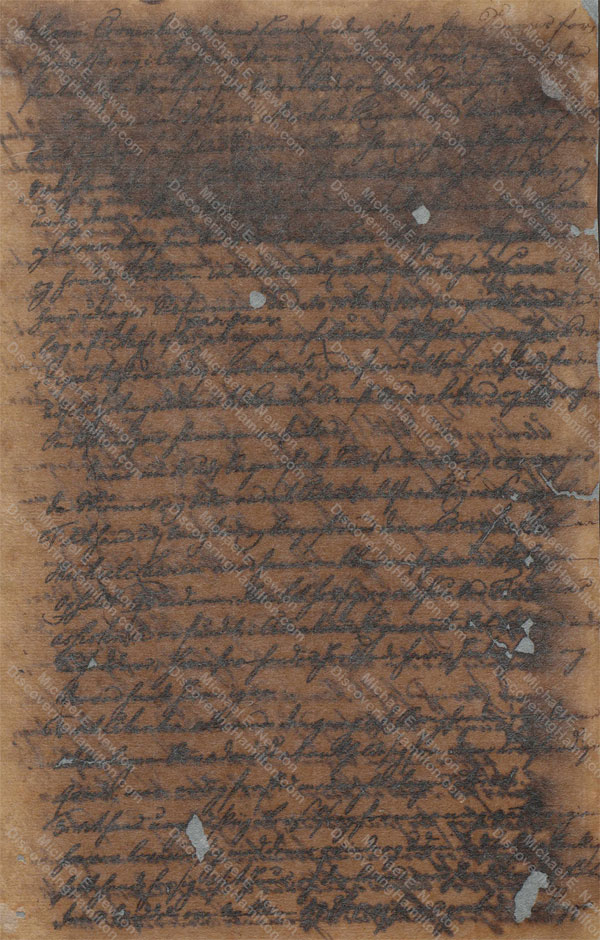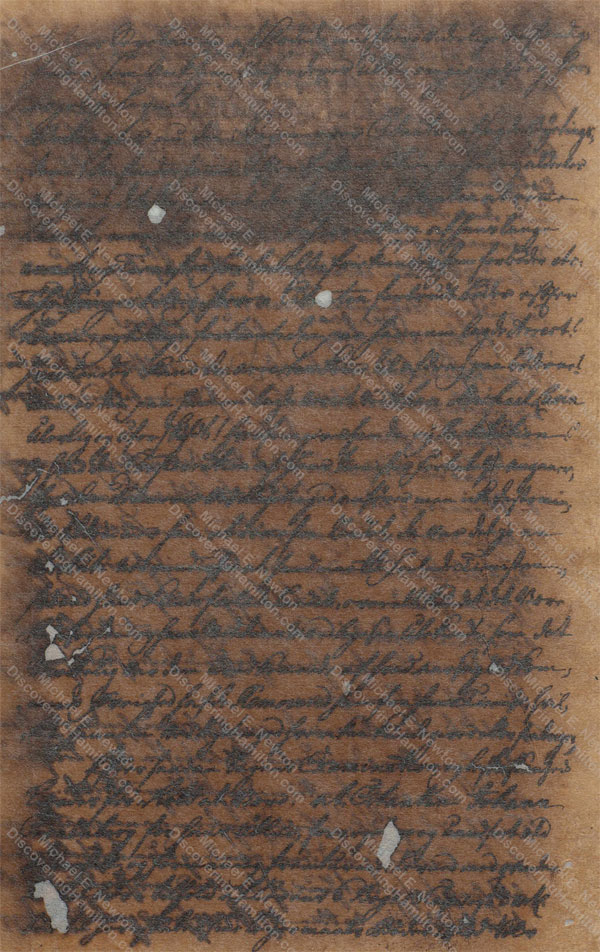 Translators
Despite the severe damage and difficulty of finding competent translators able to read the old Gothic Danish, I found and hired an expert to translate these records.
I would like to acknowledge Mads Langballe Jensen ([email protected]), who translated the above records for me along with a number of other documents on unrelated topics.
The contents of the superior court records led me to another able translator: Professor Daniel Hopkins, who I will acknowledge more fully later in this post.
St. Croix Officials Write to Denmark about Affair
Sometime after finding the superior court records, I was going through some correspondence between St. Croix officials and the officials back in Denmark when I found a lengthy letter regarding Rachel Lavien's alleged affair. It includes an exact copy of the superior court record.
As you can see, this is what I call a clean copy. It is perfectly legible.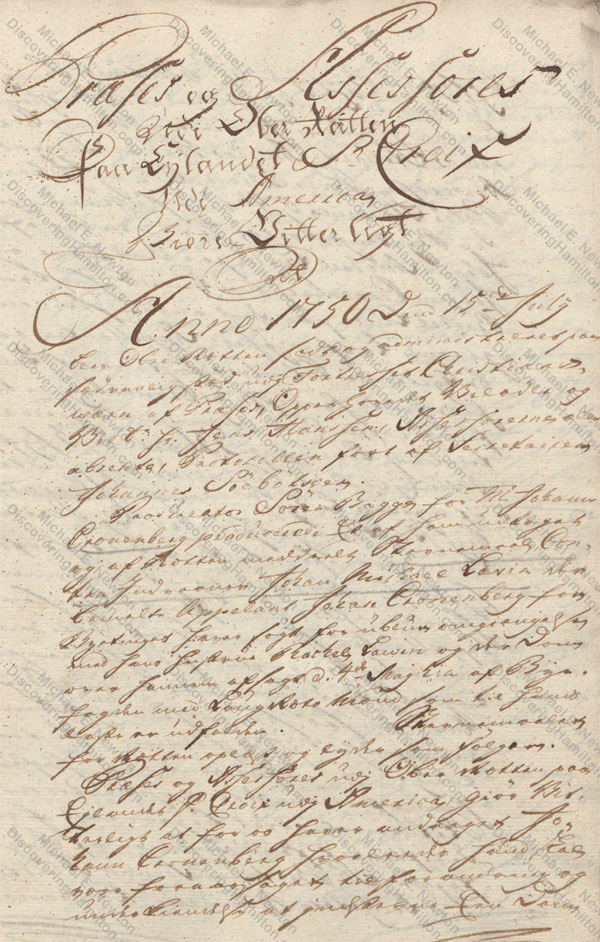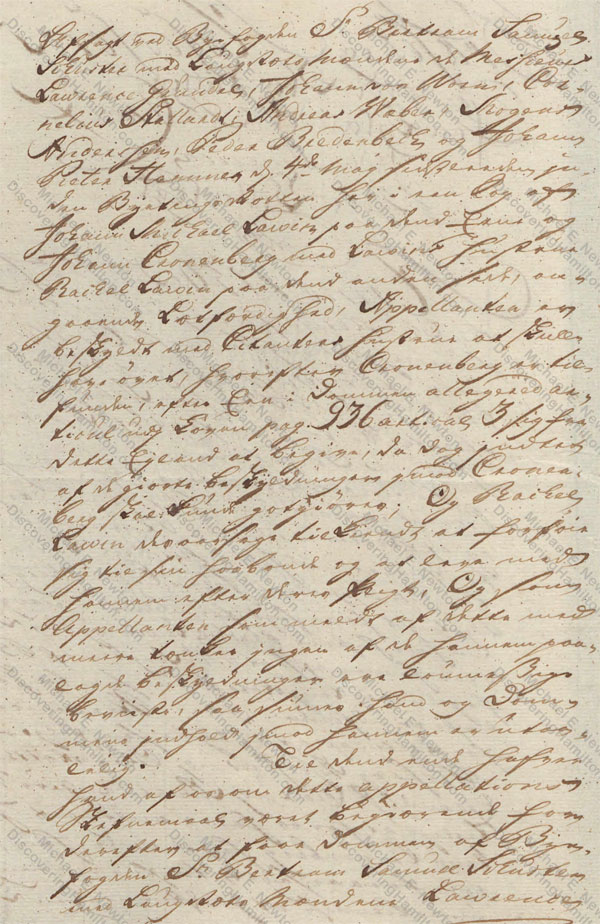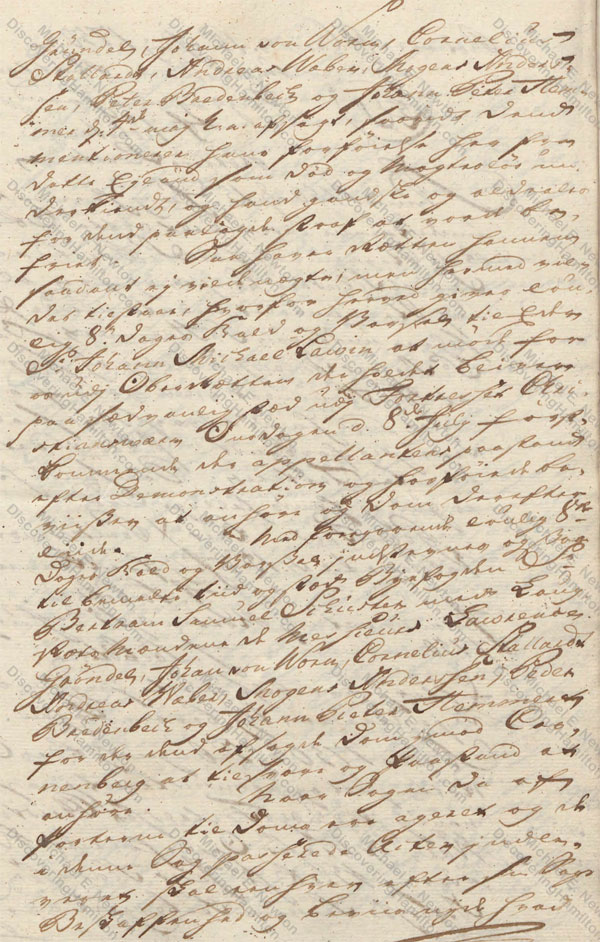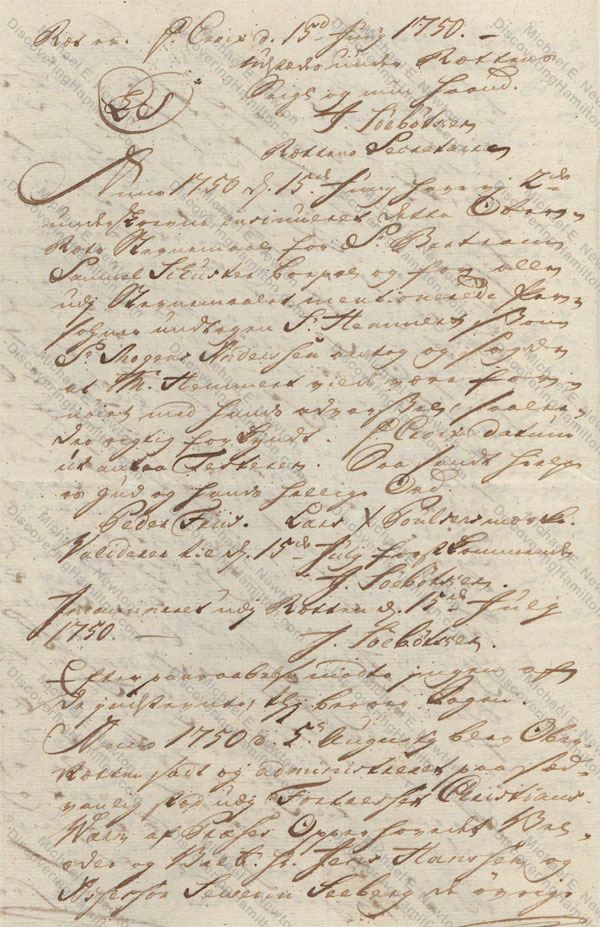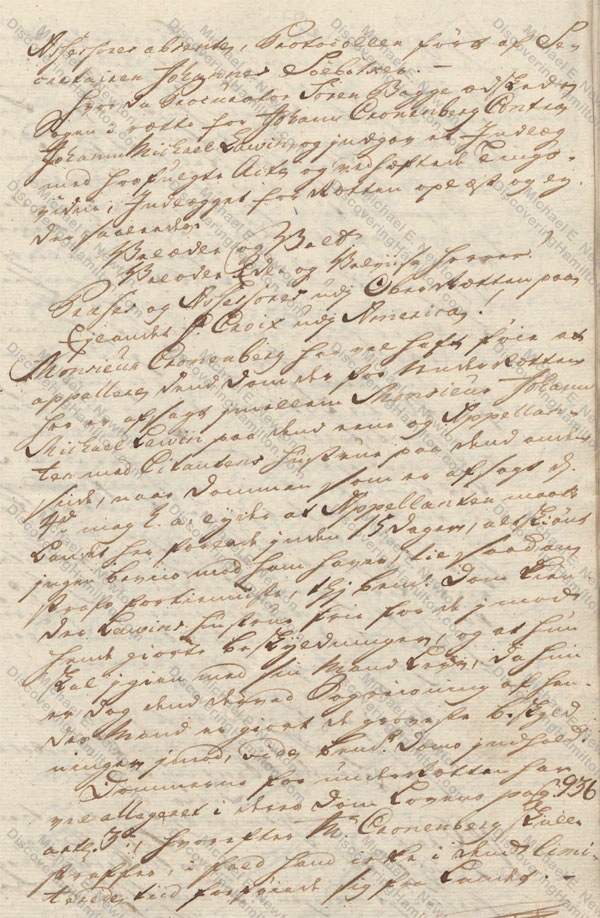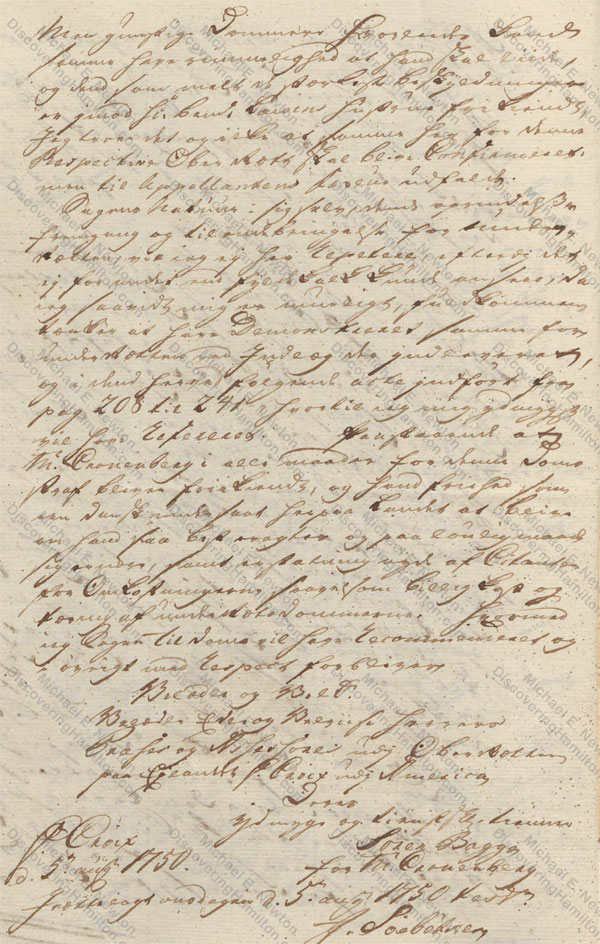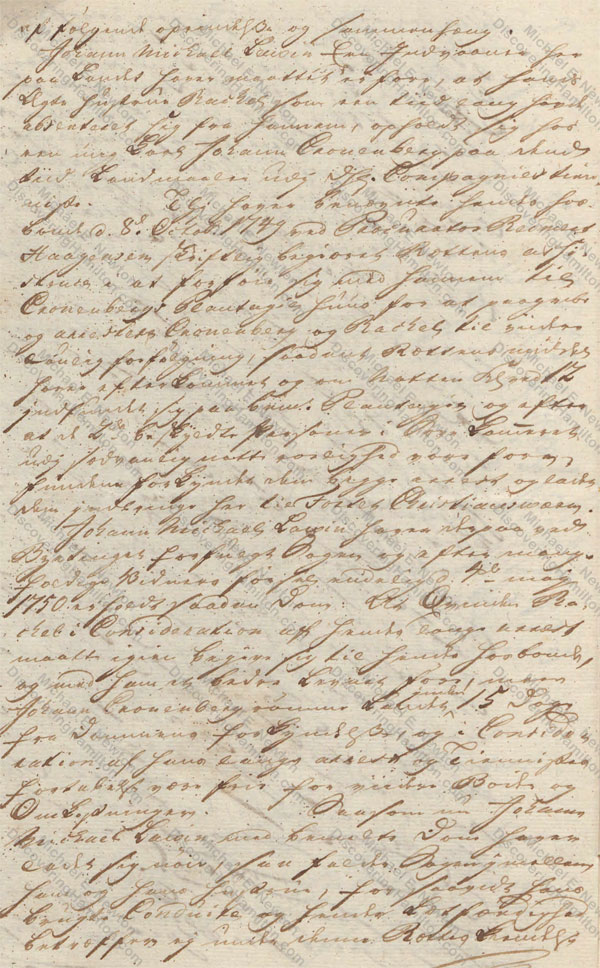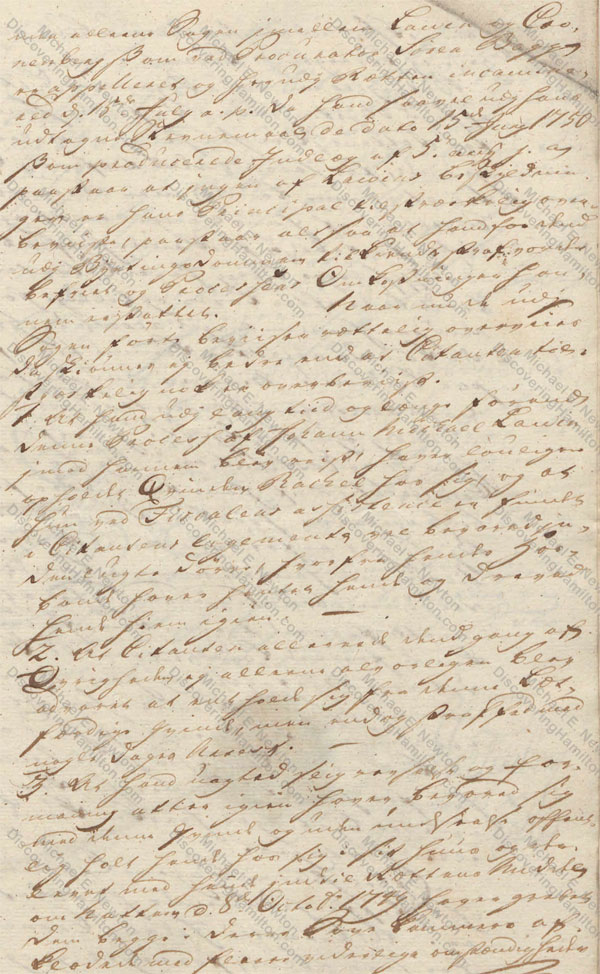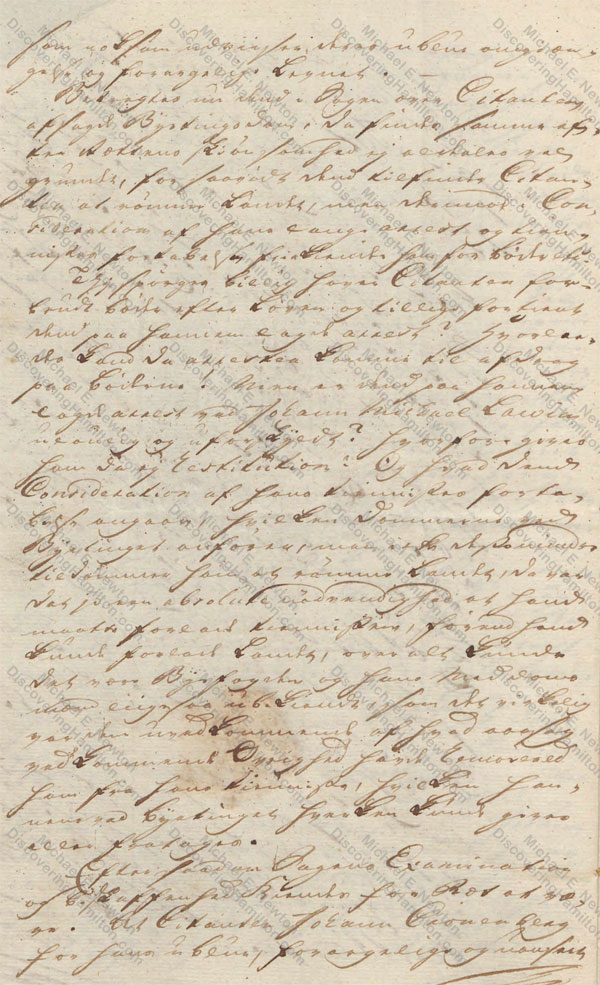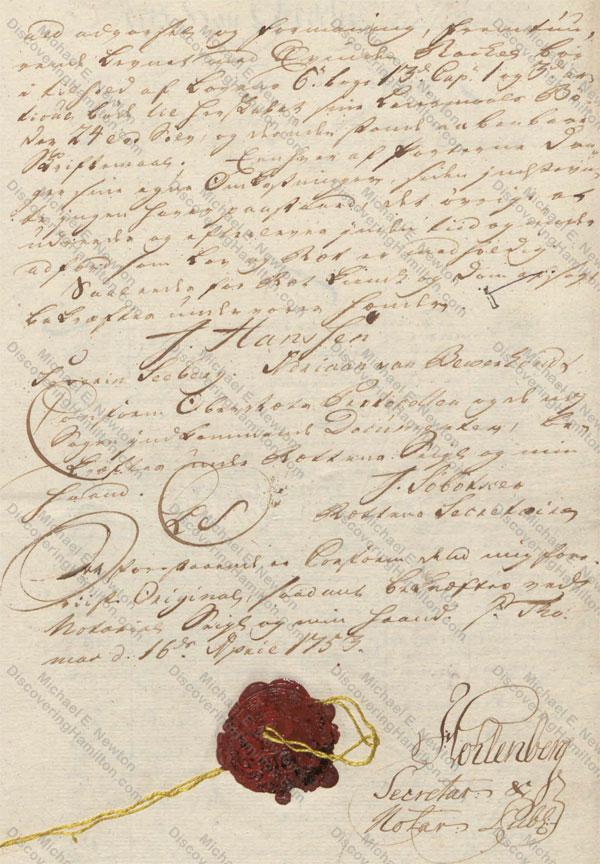 I sent these pages to Daniel Hopkins for translation. This lengthy letter filled in the gaps of what was illegible in the superior court records.
With the superior court records and this lengthy letter revealing the actors involved in the affair and the events surrounding it, I was able to locate other scattered records relating to this affair, which provided additional details and context.
The Initial Affair
Now that you've seen the key records (more records will appear in this post below as needed), it's time to talk about the extramarital affair of Alexander Hamilton's mother.
By October 1749, a romantic liaison between Rachael Faucett Lavien and a man named Johan Jacob Cronenberg had been going on for some time.
According to the above records:
"Johan Michael Lawin…had been obliged to experience that his wedded wife, Rachel, who for a long time had absented herself from him, was residing with a bachelor Johan Cronenberg."
"Johan Michael Lawin, whose wedded wife the aforesaid Cronenberg accuses of having resided with him for a long time in fornication."
Rachel was "found" in Cronenberg's "lodging, well hidden behind locked doors, wherefrom her husband fetched her and drove her home."
Cronenberg was "not only…seriously warned to keep away from this woman of loose morals but also punished with some days' incarceration."
"Despite this chastisement and admonishment," Cronenberg "again had sexual relations with this woman and without feeling shame publicly kept her with him in his house and lived there with her."
Thus, Rachel and Cronenberg had been "residing" together "for a long time in fornication." They were caught together "well hidden behind locked doors," Rachel was driven back to her husband, and Cronenberg was warned and even imprisoned for a few days. Despite this, Rachel soon returned to live with Cronenberg.
Arrest of Rachel and Cronenberg
On October 8, 1749:
John Lavien "requested the court's assistance to repair with him to Cronenberg's plantation house to seize and arrest Cronenberg and Rachel for further legal prosecution."
"This the agent of the court complied with, and at night at about 12 o'clock had come to said plantation and…the 2 accused persons were found in the bedroom taking their usual night's rest."
"The agents of the court…seized them both in their bedroom, undressed and with more debauched circumstances that sufficiently demonstrated their shameless intercourse and scandalous life" and "declared them both to be under arrest and had them brought…to Fort Christiansvaern" to be imprisoned.
So Rachel and Johan Cronenberg were caught by John Lavien and one or more agents of the court in Cronenberg's "bedroom, undressed and with more debauched circumstances." They were arrested and thrown in jail.
Municipal Court
On October 10 or 20, 1749 (some records give the date as October 10th and it probably was on this date but other records say October 20th), the case of Johan Cronenberg and Rachel Lavien was brought before the municipal court. Both Rachael and Cronenberg were charged and found guilty. They were imprisoned in Fort Christiansvaern.
About Fort Christiansvaern
At Fort Christiansvaern, Rachel and Cronenberg each occupied one of the many "arrest" rooms. Some of the arrest rooms were like prison cells and others more like apartments. Johan Cronenberg surely stayed in one of the nicer arrest rooms devoted to gentlemen and arrested officers. Rachel's room probably was not as nice. If there were other white women in prison at the time, she probably had to share a room with them.
Here's a layout of the fort from 1836. I added some red exes marking the different arrest rooms.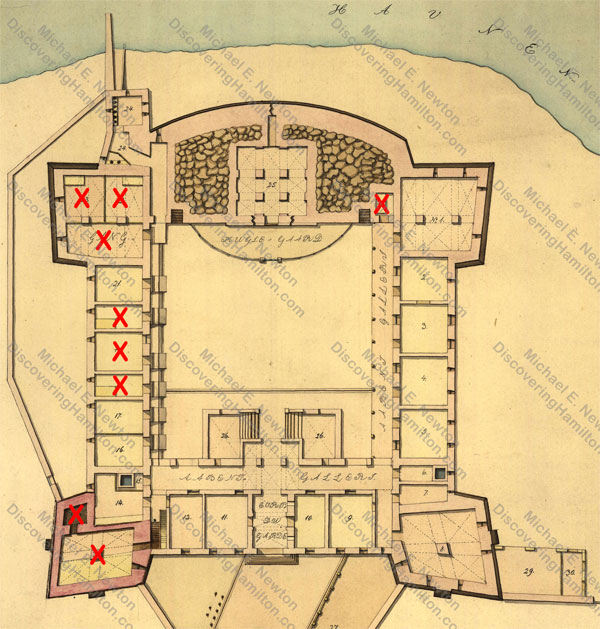 About Johan Cronenberg
So who was this Johan Cronenberg with whom Rachel Faucett had this affair?
Johan Jacob Cronenberg was sent by the Danish West India Company from Copenhagen to serve as St. Croix's head land surveyor and to draw an accurate up-to-date map of the island. He arrived on St. Croix in late 1746 or in January 1747. According to the census records, he was single and lived in Christiansted with two slaves. But we saw in the court records that he had been living with Rachel in a plantation house, presumably a different house than the one in town. (Citations and additional information will appear in a future book.)
The map that Johan Cronenberg produced is extraordinarily detailed and beautiful.
Here is the map in its entirety.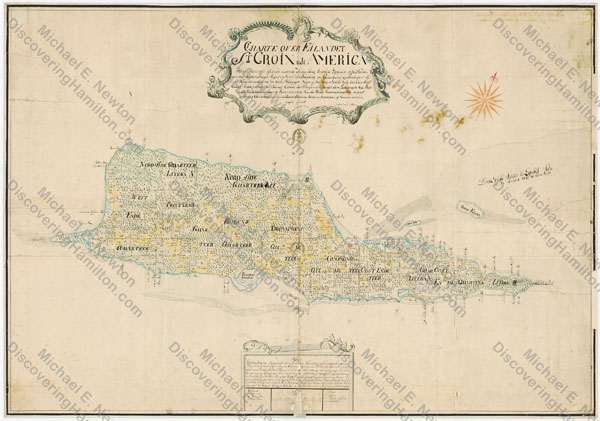 Zooming in on one of the island's quarters, i.e., Company's Quarter, one can see the individual estates, even houses, slave quarters, processing mills, land under cultivation, forest land, rivers, and roads. One can also see Christiansted and Fort Christiansvaern at the top right. Just to the left of the "C" in "Compagniets," one notices the estate of James Lytton, where Rachel Faucett was later buried. Just to the right and below Lytton's estate, one can see John Michael Lavien's half plantation.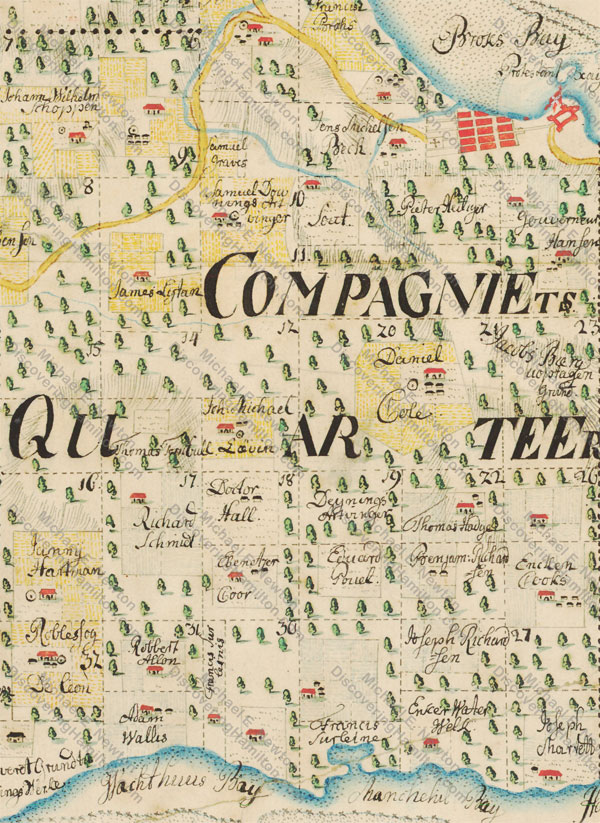 Like I said, the map Johan Cronenberg produced is extraordinarily detailed and beautiful
Daniel Hopkins
Johan Cronenberg and his map brings me to a brief tangent.
When Mads Langballe Jensen translated the first records for me and I saw the name Johan Cronenberg, I of course searched for more information. This brought me to Professor Daniel Hopkins, who has written extensively on the cadastre (division and recording of land ownership) and cartography of St. Croix.[3] In his research, Hopkins became the leading expert on Johan Cronenberg, who was the chief land surveyor and producer of the map.
Professor Hopkins has since been of immense help to me. He provided a second translation of the original superior court record regarding Rachel and Cronenberg, translated the letter sent from St. Croix officials to those in Denmark, and has translated other documents for me. As an expert on 18th century St. Croix, the island's records, and Cronenberg, he has also provided great insights into the nature of this extramarital affair and the records surrounding it.
I owe Prof. Daniel Hopkins a great debt of gratitude for helping me unravel this story.
Privy Council Meeting
Returning to the story of Rachel and Johan Cronenberg…
On January 7, 1750, about 3 months after Cronenberg and Rachel were imprisoned at the Fort, St. Croix's privy council met to discuss the matter of Johan Cronenberg ,"who because of a disgraceful case of shameless intercourse and association with a wedded husband's wife here in the country is under arrest and prosecution by the same man."
At this meeting, the governor declared that Cronenberg had "dealt quite irresponsibly" and that "he has no use for Cronenberg in regard to his extravagant and negligent behavior."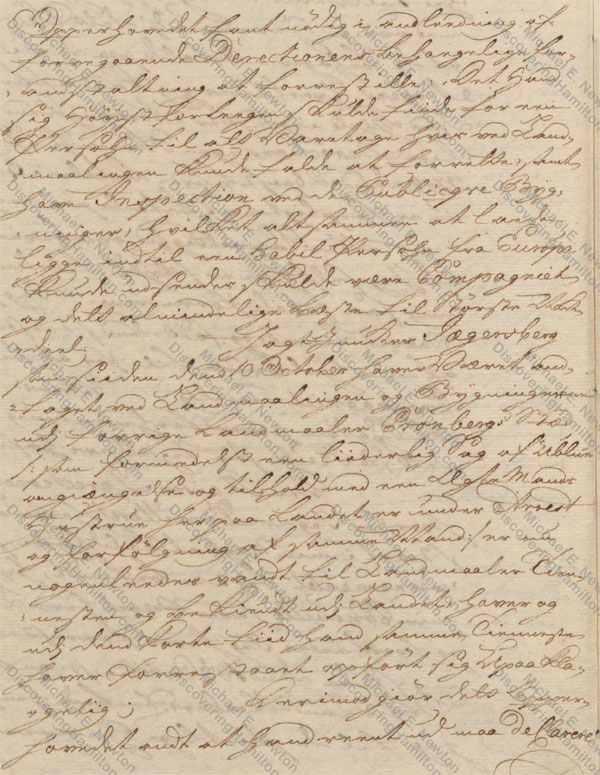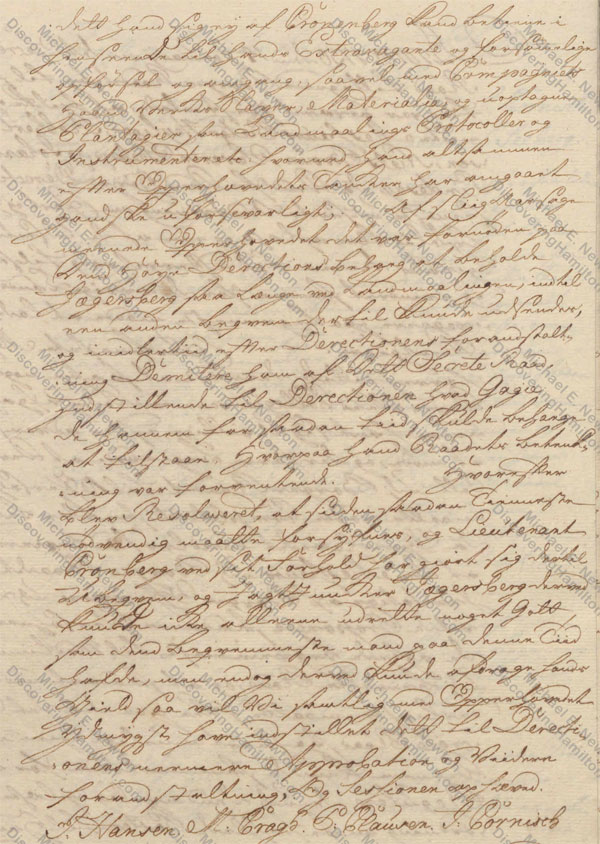 Privy Council Report
Johan Cronenberg was still in jail on March 25, 1750, more than five months after being imprisoned, when the privy council reported to officials back in Denmark that Cronenberg was "under arrest here in the fort" on "account of extravagance and unseemly deeds" in that John Michael Lavien accused him "of having resided" with his "wedded wife" for "a long time in fornication, and thus for this the matter is being prosecuted in the courts." The council also reported, as noted earlier, that the governor asserted "that with Cronenberg he can have nothing more to do, he being altogether too much given to extravagance and negligence."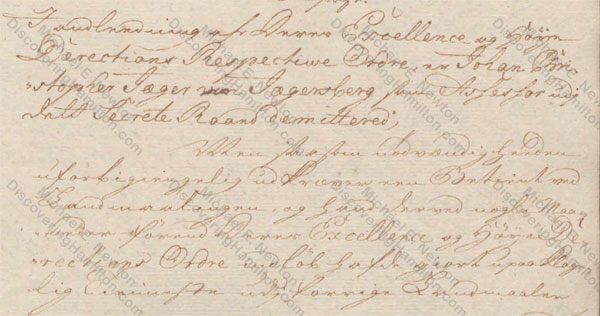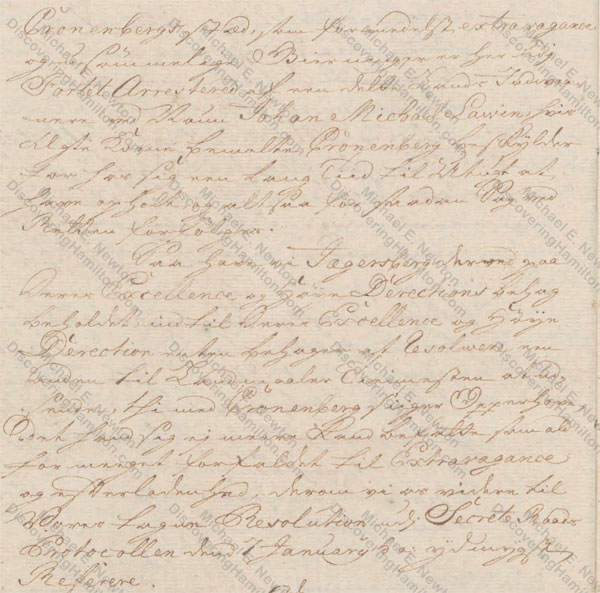 Cronenberg Auction
While Cronenberg sat "under arrest…in the fort" without an income, the Danish West India Company on April 27, 1750, auctioned off three of Cronenberg's slaves and two of his horses for 800 rigsdalers. The money was used to pay off an obligation of 630 rigsdalers that Cronenberg owed.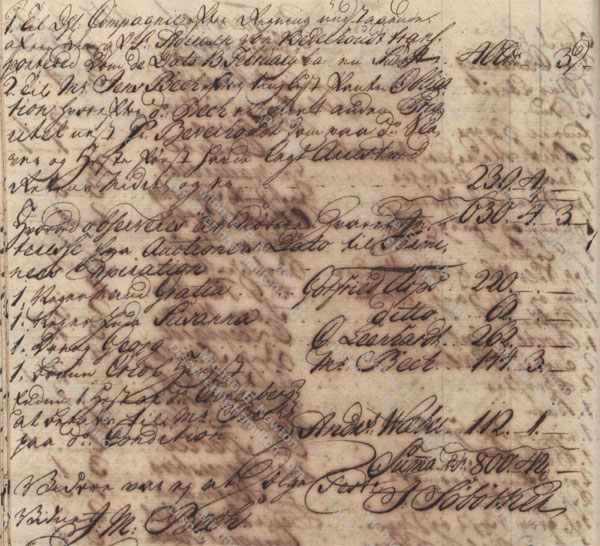 Rachel Released and Cronenberg Exiled
Nearly eight months after having his wife and her paramour imprisoned, John Lavien approached the municipal court and expressed his belief that Rachael had been sufficiently punished and asked that she be "freed…from jail and lawsuit, thinking that everything would change to the better and that she, as a wedded wife, change her unholy way of life and…live with him."
On May 4, 1750, the municipal court decided that Rachael, "in consideration of her long incarceration," was to be released so that she "might again betake herself to her husband and with him lead a better life." At the same time, the court ordered Cronenberg to leave "the country within 15 days of the publication of the judgement, and in consideration of his long arrest and the loss of his position in the Company's service will be free of further fines and costs."
Cronenberg Leaves St. Croix
Johan Cronenberg presumably left St. Croix in May 1750, before his 15 days were up.
On July 30, the privy council on St. Croix wrote to the officials back in Denmark to request a new land surveyor to replace Cronenberg because "a judgement of exile has been issued by the municipal court for his shameless intercourse with Lavien's wife."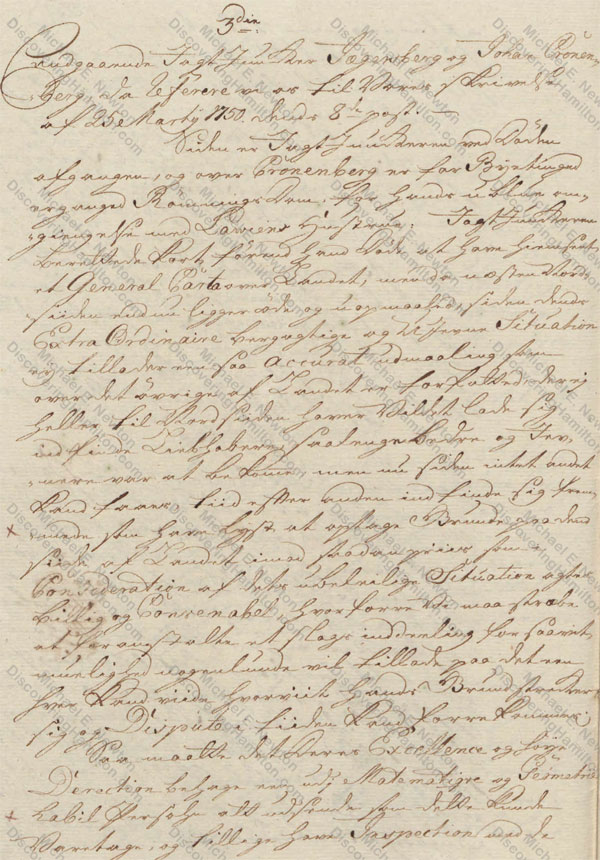 One record shows that Cronenberg was on St. Thomas on August 12, showing that he had definitely left St. Croix by this time.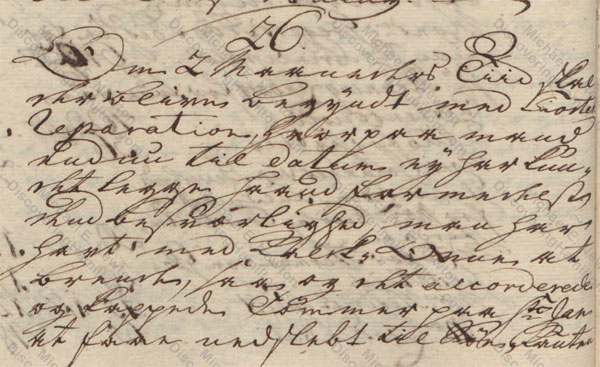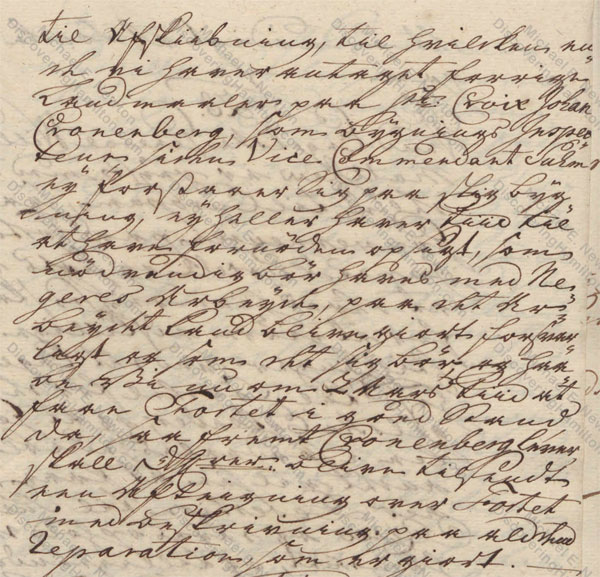 Cronenberg Appeals
At this point, one would think that the legal matter was settled. But the story continues. And thankfully so because if the story ended here it would not have been recorded in the registers of the superior court and perhaps no accurate record of this affair would exist.
On June 15, 1750, Cronenberg's attorney "submitted" an appeal in the superior court "against Johan Michael Lawin who sued the appellant Cronenberg for shameless association with his wife Rachel." Cronenberg's attorney argued "that none of the accusations laid against him have been legally proved" and "it therefore seems to him that the substance of the judgment against him is intolerable." Cronenberg's attorney requested that Cronenberg's expulsion be "disallowed" and "without effect" and that he be "completely relieved of the punishment laid upon him."
After hearing these arguments, the Superior Court ordered John Lavien "to appear before…the Superior Court" on July 8 so that the court could "hear the appellant's claim with reference to the opposite proofs and to be subject to the judgment." It also ordered the members of the municipal court who issued the original order to appear "for the same purpose."
On July 15, "the case was postponed" because "none of the individuals who had been called before the court appeared."
As a result, on August 5, Cronenberg's attorney presented "various documents and evidence" in his defense. What these documents and evidence were is not mentioned. He also argued that "there is no proof against him to make him deserve such a punishment," that the judgement freeing Rachel from prison proves "Lavien's wife innocent of the accusations made against her," and that "the most grave accusations were made" against Rachel, not Cronenberg.
In other words, Cronenberg's attorney argued that nothing against Cronenberg was proven, that Rachel's release proves her innocence, and if she was innocent then so was he.
Over the following months, Cronenberg's appeal was repeatedly postponed.
Superior Court Ruling
Finally, on February 3, 1751, the superior court ruled that Cronenberg, "for his shameless" and "scandalous" behavior, "with warning and admonishment, carrying on his life with the woman Rachel," was guilty and "liable for fines in accordance with the law" in addition to his previous incarceration. He was to pay the "fine for fornication of 24 lod silver," a mere twelve rigsdalers, and "further to submit to an open confession."
Thus, in appealing the case, Cronenberg was again found guilty. On top of his previous incarceration, the superior court added a fine and forced a confession, which had not been required by the municipal court. So Cronenberg not only lost his appeal, but he made it worse for himself.
Obviously, if Cronenberg was deemed guilty, Rachel was considered so as well.
Rachel Faucett Lavien Leaves St. Croix
As for Rachel, her future story is relatively well established. In summary, after she was released from prison, Rachel left St. Croix and made her way to St. Kitts, where she met a man named James Hamilton. James and Rachel lived together for upwards of 15 years, were generally treated as husband and wife, and had two children together, namely James Hamilton Jr. and Alexander Hamilton. And the rest, as they say, is history.
Support This Blog
Please consider supporting this blog and the continued research into the life of Alexander Hamilton, his family, friends, and colleagues.
Endnotes
[1] H. U. Ramsing, "Alexander Hamilton og hans Mødrene Slaegt."
[2] Newton, Alexander Hamilton: The Formative Year 18.
[3] Among Daniel Hopkins's writings on the subject are The Danish Cadastral Survey of St. Croix, 1733-1754; An Extraordinary Eighteenth‐Century Map of the Danish Sugar‐Plantation Island St. Croix; An Early Map and the Cadastral Survey of St. Croix, Danish West Indies 1734-41.
Copyright
© Posted on July 23, 2018, by Michael E. Newton. Please cite this blog post when writing about these new discoveries.