Much of the information in this blog (and in all previous Hamilton bios) has been updated, expanded, or even corrected in Michael E. Newton's new book Discovering Hamilton. Please check that book before using or repeating any information you read here on this blog (or that you read in previous Hamilton biographies).
© Posted on February 5, 2018, by Michael E. Newton.
The story of Alexander Hamilton's parents is well known. They meet on St. Kitts, move to Nevis, give birth to Alexander Hamilton, move to St. Croix, split up, one leaves the island, and then the other dies, leaving an eleven-year-old Alexander Hamilton without a parent to care for him. But this well-known narrative omits a stop along the way and ignores a friendship that appears to have followed them from one island to the next.
The Hamiltons Visit St. Eustatius
In 1758, James Hamilton and Rachel Faucett visited the island of St. Eustatius, about thirty miles northwest of Nevis. Presumably, James and Rachel brought with them to the island their two children, James Jr. and one-year-old Alexander Hamilton. Here, on October 1, 1758, "James Hamelton en Rachel Hamelton desselfs Huysvrouw [James Hamilton and Rachel Hamilton his housewife]" stood as godparents at the baptism of four-month-old Alexander Fraser Jr., son of "Alexander Fraser en Elisabeth Thornton desselfs Huysvrouw [Alexander Fraser and Elizabeth Thornton his housewife]."[1]

In addition to placing the Hamiltons on St. Eustatius in October 1758, this record is especially noteworthy because it is the only extant contemporary record in which Rachel is given the surname Hamilton and called the wife of James Hamilton. (In the above volume of church records, the term "Huysvouw" or "housewife" is given to all wives and in no way signifies that they were not a properly married couple.)
But this record raises more questions than it answers. Who were Alexander Fraser and Elizabeth Thornton that James Hamilton and Rachel Faucett were asked to be the godparents to their son? Did these two couples meet on St. Eustatius and there form a bond? Or did they know each other before the Hamiltons left Nevis for St. Eustatius sometime in 1757 or 1758? Did the Hamiltons and Frasers or their children interact after this singular event? Why were the Hamiltons on St. Eustatius in the first place?
The Thorntons of Nevis
For decades, a Thornton family lived in St. George's Parish, Nevis, alongside the Faucetts. A Jasper Thornton lived on Nevis back in 1678.[2] A John Thornton suffered during the French invasion of Nevis in 1706 and, in the same records presented two months ago, claimed a loss of £2,025 13s 3d, nearly double the claim entered by John Faucett and more than double that claimed by John Lytton, indicating that John Thornton was especially hard hit, that he was wealthier than Faucett and Lytton, or both. John Thornton appeared in the Nevis census of 1708 with two other males and a female along with forty-five slaves, thirty of his own and fifteen belonging to someone else but in his possession,[3] another indication of his wealth given that he probably lost many of his slaves during the French invasion. He died in St. George's Parish in 1716. His widow Mary Thornton died there in 1720.[4]
While it is impossible to know with certainty, Elizabeth Thornton may have belonged to the same Thornton family that had lived in St. George's Parish on Nevis alongside Rachel Faucett and her family. This close family connection would explain why "James Hamilton and Rachel Hamilton his housewife" attended Alexander Fraser Jr.'s baptism and served as his godparents.
However, Thornton was a common name and there were Thorntons to be found on just about every island in the Caribbean. While it makes sense for the Faucetts and Thorntons of Nevis to be the link between Rachel Faucett and Elizabeth Thornton, there is no evidence to support this conjecture.
Moving to St. Croix
When the Hamiltons moved to Christiansted, St. Croix, in 1765, the same Alexander Fraser was already living there with one slave on Kongens Tvaergade (King's Cross Street). Besides one slave, he was living all alone.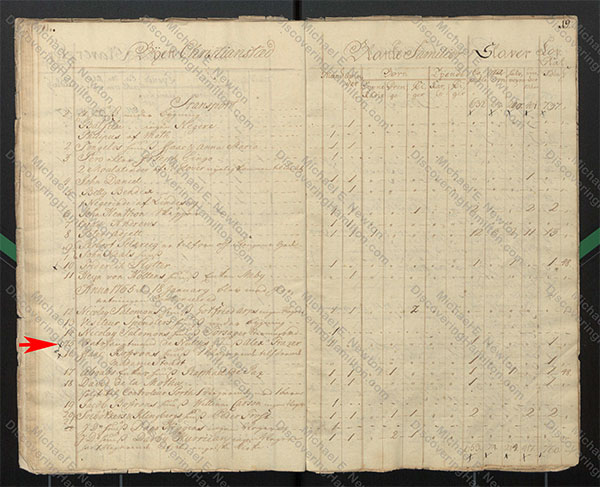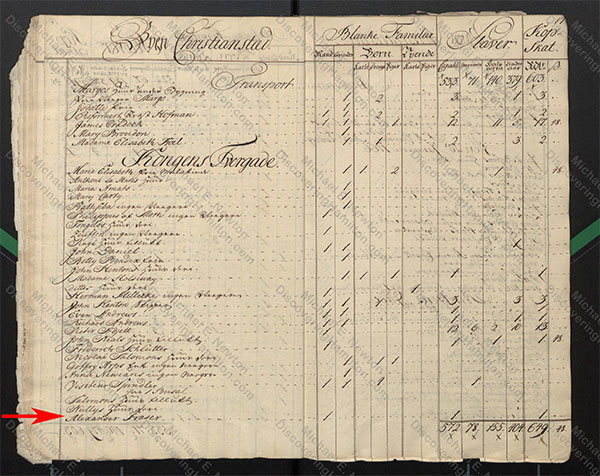 As friends from St. Eustatius and living just blocks from each other in Christiansted, James Hamilton and Rachel Faucett undoubtedly reconnected with Alexander Fraser.
Alexander Fraser's Will and Death
On April 7, 1767, Alexander Fraser, "sick of body" but "of sound mind, memory, and judgement," made out his last will and testament. In it he left five pieces of eight to the Lutheran Church on St. Croix. He bequeathed to his "Daughter Mary Anne residing in North America" a "heart in hand gold ring," a "Necklace of Gold containing about one hundred Beads," another necklace "for a child mix'd with Gold and Coral," "Six new Silver Tea spoons and Tea Tongs," and "five hundred acres of Eastward Land" that he owned "there" in North America. Alexander Fraser left the "residue" of his estate to "my son Alexander Frazer by my deceas'd wife Elisabeth Frazer" to be "laid out in young slaves and send to him my said son now residing at Montserrat."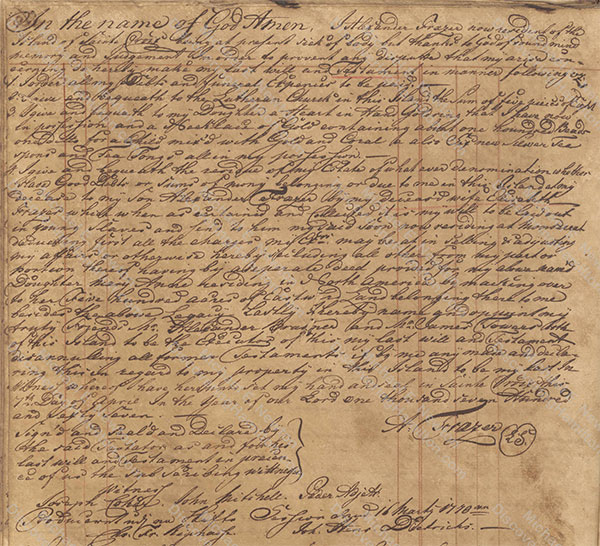 After an illness lasting at least two weeks, Alexander Fraser passed away.[5]


One wonders whether Rachel Faucett and her children—Alexander Hamilton and James Hamilton Jr.—attended the funeral.[6]
On April 16, 1767, Alexander Fraser's estate was taken up by the probate court.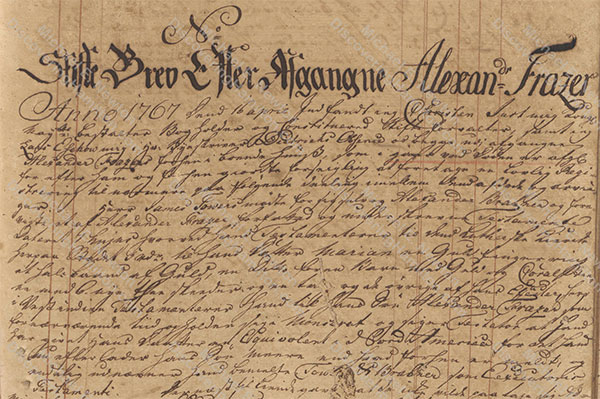 When the estate was finally settled three years later in April 1770, inflows of 1,562 rigsdalers and 33 skillings vastly exceeded outflows of 325 rigsdalers and 48 skillings. The remaining 1,236 rigsdalers and 83 skillings belonged to the heirs of the estate, that is to Alexander Fraser Jr. This figure, by the way, represents just the value of Alexander Fraser's assets on St. Croix. Not included were the gifts of land and jewelry given to Mary Ann Fraser and other assets, as will be related later.

The documents and other information recorded in Alexander Fraser's twenty-page probate record provide specific details and supporting evidence regarding the lives of Alexander Fraser, Elizabeth Thornton, and their children.
Alexander Fraser of Connecticut
According to a March 1748 deed of trust copied into the probate record, Alexander Fraser Jr., "Late of Guilford" but now a "Resident in Wethersfield," Connecticut, purchased "a Certain piece of Lot of Land Being & Laying Situated in Wethersfield in the County of Hartford & Colony of Connecticut…together with a Barn & all & Singular Building, fences, fruit trees, Woods, waters, Quarries, Mines, minerals, privileges, &c" for the "sum of four hundred pound[s]" and "fifty pounds worth of goods."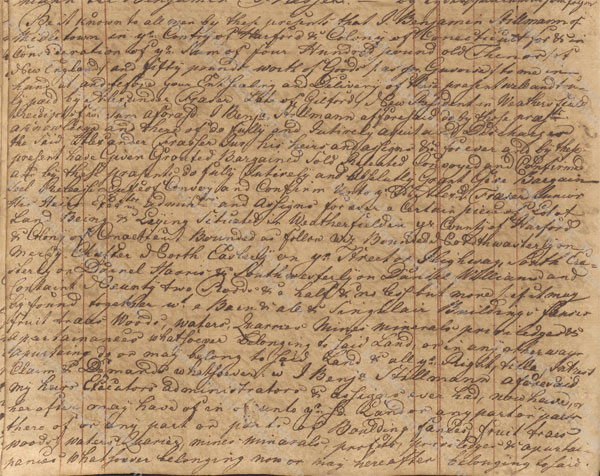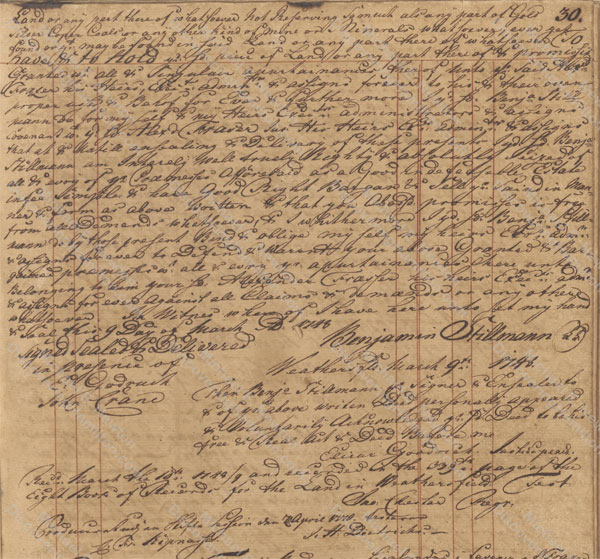 Another deed from March 1750 has "Alexander Fraser of Wethersfield in the County of Hartford & Colony of Connecticut New England shopkeeper & apothecary" purchasing "one Certain Lot of Land being part of a Ground…of thirteen hundred Acres…with all the Trees, Buildings, fences, Mines, Minerals, Reversions, &c" for "the value of three hundred pounds…in goods."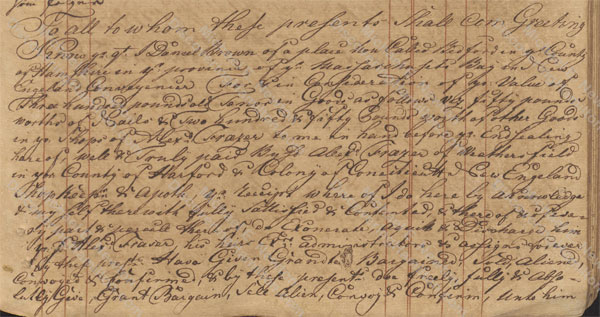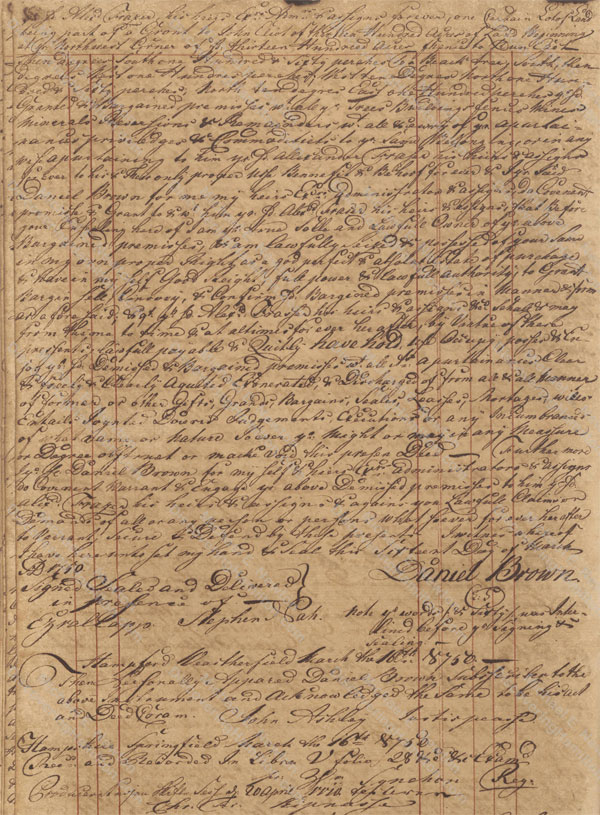 It would appear from these deeds that Alexander Fraser, the "shopkeeper & apothecary," had amassed a sizable estate.
It is also clear from the above that Alexander Fraser must have left Connecticut and come to the West Indies sometime after March 1750. The records, however, do not say why he moved or where Alexander Fraser met Elizabeth Thornton. Did Fraser and Thornton meet in Connecticut? If so, why did they abandon what apparently was a good life to move to the West Indies. Or perhaps they met on Nevis? If so, it is likely that James Hamilton and Rachel Faucett knew them there before they were all friends on St. Eustatius. Or perhaps Elizabeth Thornton was already living on St. Eustatius and there she met a visiting Alexander Fraser. Or perhaps they met on another island entirely. The extant record simply does not provide this information.
Alexander Fraser Becomes a Teacher
In Connecticut, Alexander Fraser had been a "shopkeeper & apothecary." He also appears to have been a land speculator. And perhaps he turned merchant and this occupation is what brought him down to the West Indies.
Alexander Fraser's probate record shows no indication that he pursued these careers on St. Croix. Instead, his outstanding accounts indicate that Alexander Fraser worked as a teacher.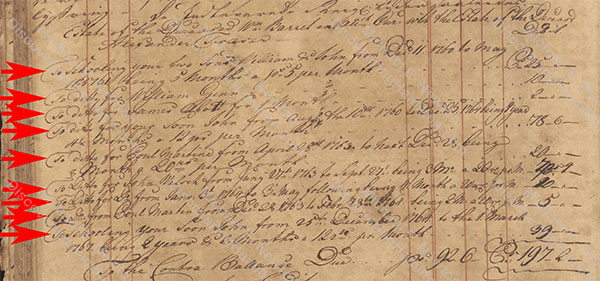 As can be seen, Alexander Fraser taught many of St. Croix's youths and a number of these students belonged to some of the island's leading families. Perhaps a young Alexander Hamilton, prior to his starting to work for Beekman & Cruger, also received instruction from the friend of his parents.
According to a statement from the person who took over Alexander Fraser's "school" after his death, Fraser charged "12 reals per month till they could write," then "2 pieces [of eight] [16 reals] per month" for "writers," and finally "20 reals per month" once they could "cypher," i.e., do arithmetic. This person also explained that Alexander Fraser claimed to have "a particular method of teaching [illegible word] for which he ask'd 3 pieces [of eight] per month."

To be continued next week…
© Please cite this blog post when writing about these new discoveries.
Endnotes
[1] This information has already been shared in a few Hamilton biographies, including Mitchell, Alexander Hamilton: Youth to Maturity 11; Newton, Alexander Hamilton: The Formative Years 17; and a few others. It does not, however, appear in most Hamilton biographies and is omitted from Ron Chernow's Alexander Hamilton. As a result, even many Hamilton experts are not aware of the Hamiltons visiting St. Eustatius in 1758.
[5] As far as I can tell, the probate record, which is mostly in Danish Gothic script, does not explicitly give the date of death or burial. However, it appears based on the accounts submitted to the probate court that Alexander Fraser died on April 14 and was buried on April 15. One assumes he was buried in the cemetery of the Lutheran Church since he left money to that church in his will, but the Danish Lutheran Church's records from this period are so badly damaged that this cannot be confirmed.
[6] No record of James Hamilton's departure from St. Croix has been found. I assume here that he left prior to Alexander Fraser's death.
© Please cite this blog post when writing about these new discoveries.