James Hamilton arrived on St. Croix on April 6, 1765. Getting into a legal dispute with John Davis, he stayed on the island.[1] While waiting for this legal case to work its way through the court, James Hamilton became the attorney (legal representative) for Archibald Ingram of St. Kitts, who was trying to collect on some debts from Alexander Moir and Alexander Gordon. This kept him on the island until at least January 1766.[2]
Knowing he would be on St. Croix for some time, James Hamilton must have sent for his family. (We don't know with certainty that James arrived on St. Croix before his family, but that is the narrative that makes the most sense.) Rachel Faucett Lavien [Hamilton] arrived on St. Croix by the end of August 1765.[3]
According to the St. Croix matrikel of 1765, which for Christiansted was compiled between January 13 and January 23, 1766, and for the plantations between December 16 and 23, 1765, "Rachel Fatzieth" was living in Christiansted, St. Croix, with her two sons and one slave. James Hamilton, was not listed with her nor is he found anywhere else in this census even though he was still on the island.[4]
Until now, we could only speculate about where James Hamilton lived on St. Croix. Perhaps he lived with Rachel but had to hide it because of Rachel's restrictive divorce. Possibly he lived and worked on someone's plantation or in someone's mercantile operation and is counted as a manservant and therefore not listed by name. Perhaps he was considered a foreigner and therefore not counted at all.
Discovering James Hamilton's Place of Residence
In Christiansted's Gæsteretsprotokoller [Guest Court Records] of December 19, 1765, is a record regarding James Hamilton, referring to events that occurred a few days earlier on December 14, 1765.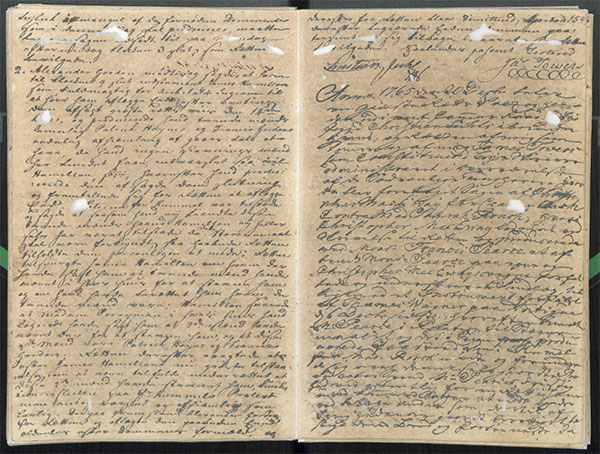 Being in Gothic Danish with imperfect handwriting, misspellings, some damage, and 250-year-old legalese, the record is hard to read and the legal aspects of this case do not entirely make sense to me. But the passage relevant to the matter at hand reads:
Hamilton svarede at Madam Parryman i hvis huus hand logerede…
[Hamilton answered that Madam Parryman in whose house he lodged…]

Thus, when James Hamilton was on St. Croix in 1765, or at least for the time around December 14, 1765, he "lodged" with Madam Parryman. (It is not entirely clear whether this text says Parryman or Perryman and the name has been spelled both ways in other records. Her first name, found in other records, was Margaret or Mary. She was the widow of Samuel Perryman)
The location of Madam Parryman's house and therefore James Hamilton's lodging is more difficult to ascertain. According to the 1764 matrikel, compiled in early 1765, Parryman lived at No. 4 Kirke Gaden [Church Street]. According to that entry, "Enken Parryman den unge [The widow Parryman the young]" lived there by herself with 5 slaves. In a house all by herself, perhaps she had spare rooms and took in lodgers.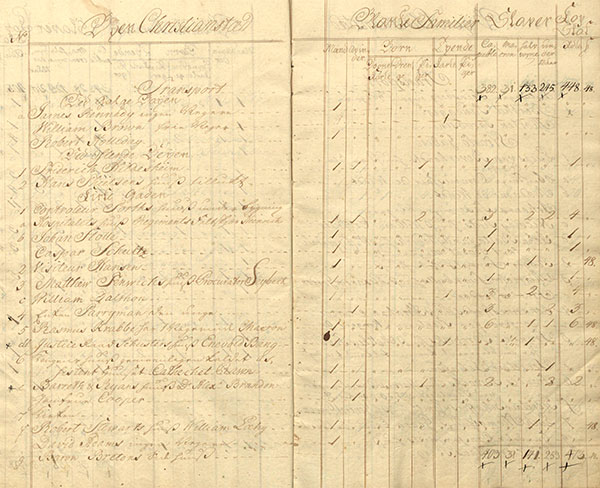 However, Parryman is no longer listed on Kirke Gaden in the 1765 matrikel. It would appear that No. 4 Kirke Gaden was now owned by Doctor Smith, who lived there with his wife and two children, but no slaves.[5]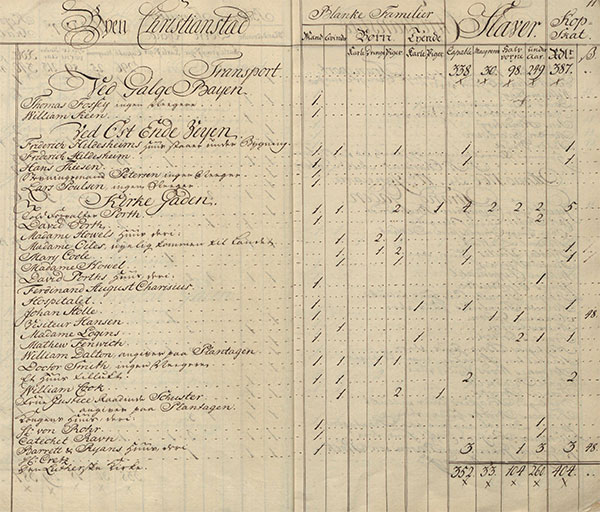 "Madame Perryman," according to the 1765 matrikel, had moved to the house of Charles Atkins on Kongens Gade [King's Street] "deri [in it] Madam Perryman."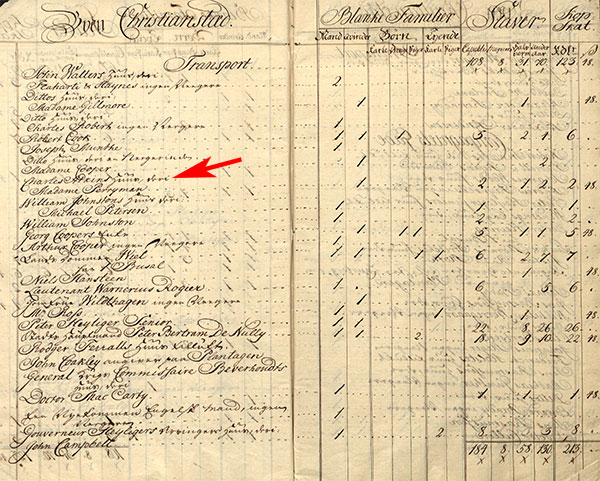 As a result, it is not clear where Madam Parryman lived in December 1765 and whether James Hamilton lodged with her on Kirke Gaden or Kongens Gade. On the one hand, since Madam Parryman resided on Kongens Gade by January 1766, it would seem more likely that Parryman had already moved to Kongens Gade by the time James Hamilton lodged with her in December 1765. On the other hand, the legal record says that James Hamilton lodged in Madam Parryman's house but the 1765 matrikel and that of the following year call the Kongens Gade location the "Charles Aitkin's house," not the Madam Parryman house.
Unfortunately, it is not known which house James Hamilton lodged in, but it is clear that he lodged with Madam Parryman, information that has clear implications to the Hamilton story.
Implications to the Hamilton Story
While this information does not answer all our questions regarding James Hamilton's residence on St. Croix or his relationship with Rachel Faucett Lavien [Hamilton] at this time, it does answer some question and offers suggestions regarding others.
The key takeaway here is that James Hamilton did not live with Rachel and their two children. Instead, he "lodged" with Madam Parryman (or elsewhere at other times). Nevertheless, it is possible that he still spent much of his time with Rachel and the kids at her house. Rachel's restrictive divorce barred her from living with James Hamilton, so he found lodging nearby in Christiansted rather than in Frederiksted or on a plantation. But this does not tell us anything about their relationship. It is possible that their relationship had ended by this time, but it is also possible that they were still together and saw each other as frequently as possible but could not be seen as living together or as legally married due to Rachel's restrictive divorce.
Also of note is that this legal case took place in the "guest court." In other words, James Hamilton was considered a foreigner and not a resident of St. Croix. This would explain why he does not appear in the matrikel even though he lived on St. Croix.
Endnotes
[1] Michael E. Newton, "James Hamilton's Employment as a Sailor, His Arrival on St. Croix, a Legal Dispute, and Rewriting the Biography of James Hamilton and the Early Life of Alexander Hamilton."
[2] Michael E. Newton, "James Hamilton's Life on St. Croix."
[3] Michael E. Newton, Alexander Hamilton: The Formative Years 38.
[4] Michael E. Newton, "James Hamilton's Life on St. Croix."
[5] In the 1764 matrikel, William Dalthon lived at No. 3 Kirke Gaden, Enken Parryman at No. 4, Rasmus Krabbe at No. 5, followed by Justice Raad Schuster's house also at No. 5. In the 1765 matrikel, which does not have numbers, the order is William Dalton, Doctor Smith, William Cook, and the widow of Schuster. It would appear that Parryman's house was taken over by Doctor Smith and Krabbe's by Cook.
Copyright
© Posted on August 18, 2021, by Michael E. Newton. Please cite this blog post when writing about these new discoveries.